Unionists in Colombia endure violence and intimidation on a regular basis. These attacks are often evident reprisals for their involvement in trade union work. But even more often, the reasons behind the attacks are unclear. The effects, however, are devastating. Trade union worker Andrés Ortiz shares his personal story.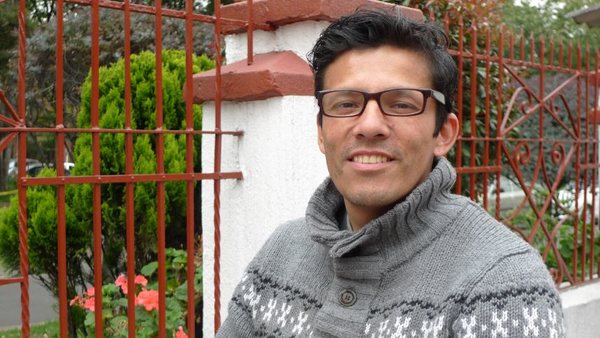 Andrés Ortiz is 35 years old and lives in the Colombian capital of Bogota. His job is to recruit new members for trade union CGT. Andrés is a friendly, quiet, and cautious young man. He chooses his words wisely - something that he has had to learn.
Growing up in Ciudad Bolivar, one of Bogota's problem areas, street violence was part of Andrés' daily reality. During his teens he formed an infamous street gang, causing great distress to his parents. With his friends he would fight other gangs, no holds barred. The battles were extremely violent.
Witnessing his best friend getting shot was a pivotal moment for Andrés. "That was horrible," he recalls, almost twenty years later. "It was a turning point in my life. I was 17 years old and I was devastated. I ran away and moved to the province of Guaviare, but I could not stick it out. I returned to Bogota after eight months."
Fresh Start
It was not easy to start all over: he had severed the ties with his street gang, and the relationship with his parents was fragile. "Pretty soon I ran into a guy who asked me to join a church's youth group. He was a member himself, but I was not convinced. I thought that all they did was pray and read the Bible. But it appeared that they were organising all kinds of interesting cultural activities for children and young adults, so I joined immediately."
Andrés had to get used to censoring his coarse street language: "You have to mind your words when you work with children. I also learned to be more patient. Everything was new to me: I got to know people who did not act aggressively or hostile, but treated me normally."
In the church youth group Andrés met Octavio Rubio, who was already working for trade union CGT at the time. Octavio introduced him to the trade union. Andrés started by following a programme for introduction and training. Next, he went to work with INES, CGT's educational centre, where he worked as a caretaker.
"Fortunately, I was doing alright again," recalls Andrés. "By then I was 19 years old and I had left my past as a gang-member behind me. I had taken up my study again, and the relationship with my parents and my younger brothers and sister had been restored completely." Andrés' life seemed to be heading in the right direction, but the future turned out to be bleak.
Gunned Down
On the evening of Boxing Day in the year 2000, Andrés was on his way home. Suddenly, he was attacked by three men. "They came out of nowhere. One held me from behind while another started firing his gun at me. I thought I would die, and I came close. It took the doctors months to take one of the bullets out of my back. By then it had already become clear that I would never walk again."
It never transpired what the motive for this attack was. It was no robbery, because the shooters never took his money. According to Andrés, he did not have any enemies that wanted to settle a score from the past. Of course he had changed his life as a gang leader for that of a unionist fighting for an equitable society. But he cannot say whether the attack was related to that change.
"The people at CGT were shocked by the attack," says Andrés. "But my colleagues have always been very supportive. They helped my family and me tremendously during those dark days. CGT has given me the opportunity to keep on working for them, for which I am very happy.
Stars symbolise hope. That is why I have both of my hands tattooed with a star. After all, my hands help me to move about in my wheelchair, so my hope and willpower lie in my hands. The stars on my hands are a reminder that I am willing and able to go forth."

Union Work Champion
These days, Andrés recruits members for CGT. This responsibility takes him to neighbourhoods and plants around Bogota to promote CGT's work and recruit new members. "Public transport is the main problem. It is not easy to get around in this enormous city, but eventually I succeed in travelling to all parts of Bogota.
I get to meet people from a wide range of occupations, which is the most interesting part for me. One day I may be talking with workers in transportation, while the next day I might meet domestic workers, construction workers, teachers, or nurses. I have noticed that initially many people find it difficult to talk to me because of my handicap.
Some people don't take me seriously, or think that I do not have any capabilities. But as soon as they get to know me, this awkwardness disappears, and often very nice conversations arise."
Publication date 01 03 2015