Millions of workers worldwide simply don't earn enough money to support themselves and their families. It's not uncommon for countries to have no agreements establishing a minimum wage. Or if there is a minimum wage, it's too low for the people to live on. A living wage for employees throughout the production chain is essential to combat poverty, inequality, and child labour.
CNV Internationaal advocates a living wage for every worker. Over the past few years, attention for living wages has grown and more and more companies have come to realise that not having a living wage is a significant human rights risk in their international supply chains. One which they need to take seriously and address.
CNV Internationaal is happy about this increased awareness and attention. However, in order to achieve living wages in a sustainable way, CNV Internationaal emphasises that it's crucial to involve the workers and their unions in this process from the very start.
8% of employed workers live in extreme poverty
Having a job does not guarantee a decent living. Worldwide, 8% of employed workers and their families lived in extreme poverty in 2018, despite a rapid decline in the working poverty rate over the past 25 years . Governments play an important role in wage-fixing mechanisms at the national and sectoral level.
170 countries minimum wages set
Over 170 countries have one or more minimum wages set through legislation. In many countries however, a minimum wage is not enough to provide a decent living and the minimum is often below the living wage.
A living wage is the amount necessary for a worker to meet his and his family's basic needs. You must be able to eat, for example, and send your children to school and pay for health care.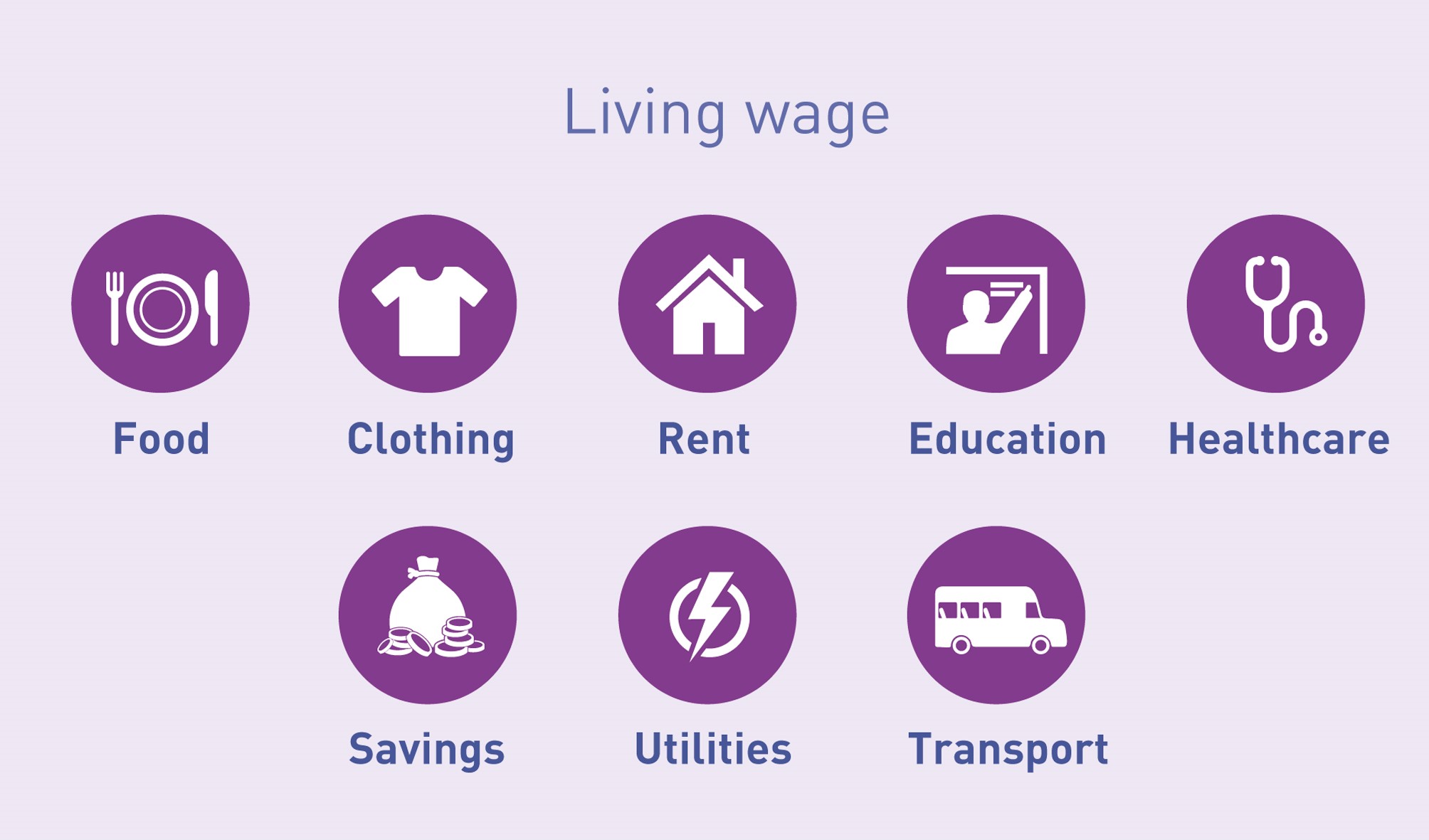 Men and women are also often not offered a permanent contract – or any contract at all. This in turn offers them no job security, nor do they feel secure enough to negotiate a fair wage; they can be easily replaced by someone else. In the direst situations where labour is scarce, workers are forced to do the work for even lower wages or deferred payment.
The dependent position of the worker makes it impossible for him/her to say no to the work. Particularly migrants who depend on company living quarters experience these forms of disguised forced labour. Sometimes it is even the case that their passport is taken away so that the worker isn't able to leave.

In addition, men and women are often paid unequally.
Female garment workers in Cambodia, Sri Lanka and India for example, are paid between 10 and 40 percent less than men.
For a sustainable living wage, good negotiations between independent and representative trade unions and employers are important, so that the wage remains viable in the future.
Some companies refer in their CSR policy or code of conduct to less demanding local laws and customs; these then serve as guidelines for the company policy. This can lead to major differences in the application of the policy between the countries in which a company operates. Moreover, local governments sometimes apply double standards. They have recognised a living wage as a necessity, but also create free trade zones (export processing zones) to stimulate the economy. Here, international companies have a lot of room to manoeuvre, but independent trade unions have no access, and control over living wages is hard to find.
Also, the defined policy and wages in a company often only apply to permanent employees. So, not for flex workers and hired workers. A company can include in its human resources policy that equal wages must be paid for all employees, including those hired in.
Directives, treaties, and policies
Guiding Principles on business and human rights (UN)
In the Netherlands, the OECD guidelines offer companies guidance on how to deal with issues such as chain responsibility, human rights, child labour, the environment and corruption. They form the starting point for Dutch CSR policy. CNV Internationaal pays special attention to Part I Chapter 5 (Employment and Industrial Relations).
Universal Declaration of Human Rights, Article 23
According to Article 23 of the Universal Declaration of Human Rights, everyone has the right to work, to free choice of employment, to just and favourable conditions of work and to protection against unemployment:
· Everyone, without any discrimination, has the right to equal pay for equal work;
· Everyone who carries out work has the right to just and favourable remuneration which ensures that he and his family can live in dignity, this being supplemented, where necessary, by other means of social protection.
Conventions of the International Labour Organisation (ILO)
A living wage for the sugarcane sector - webinar
Vlog about a living wage for sugar workers