Social dialogue and living wages bring about innovation in the sugar sector
CNV Internationaal is activily engaging in improving labour conditions of workers at the beginning of the cane sugar supply chain with a focus on social dialogue and living wage.
Main issues for sugar workers are :
extremely long working days,
piecework rates far below the living wage,
not enough break time, and
not enough drinking water in the fields.
the lack of opportunity to freely organise as workers.
These social issues often seem to be less visible in sustainability audit reports.
CNV Internationaal therefore is actively involved in the development of social sustainability at the beginning of the (cane) sugar supply chain. We are a member of Bonsucro, the international standard for sustainable sugar and have been actively involved in the updating process of the Bonsucro Standard since 2019.
Last December 2021 the new version of the Bonsucro Production Standard has been approved, which aims to ensure greater sustainability in the worldwide international sugar value chain.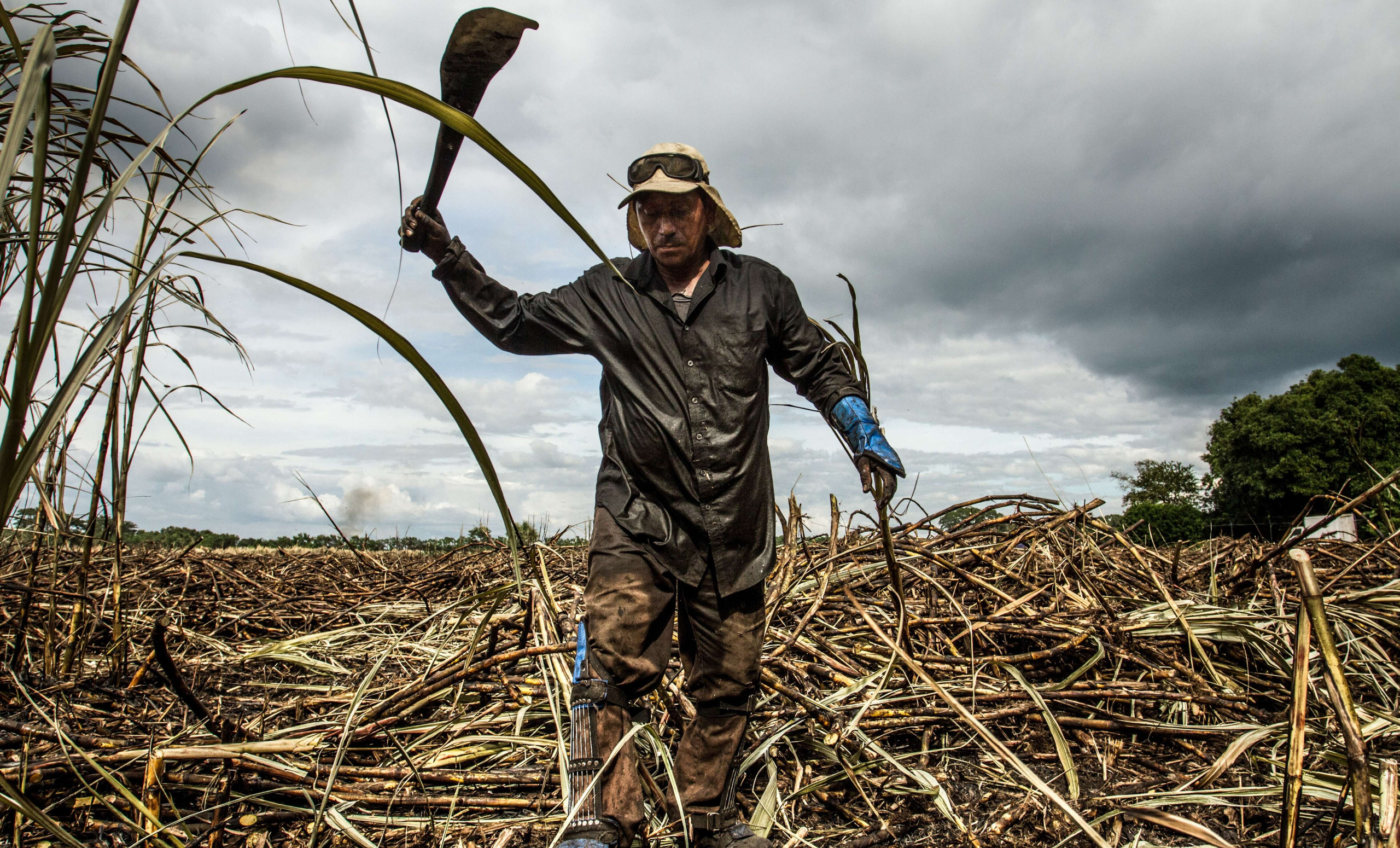 European investors support living wage
European trade union organisations and investors expect the updated standard to provide a roadmap towards a living wage, to help close the actual gap.
These groups are seeking greater social sustainability and labour improvements for the millions of workers who make global growth and prosperity possible, year after year.
European investors in the international sugar chain also want to make the sector more socially sustainable and improve labour conditions. Therefore, they too support the inclusion of a living wage in the Bonsucro Standard. Together with CNV Internationaal they presented the roadmap "a living wage throughout the cane sugar supply chain' on 28 October 2021.
Their aim is to motivate the different actors in the chain to cooperate in various ways, including the use of social dialogue and pilot projects, to progressively achieve a living wage for workers in the sugar sector.
Following a pathway to a living wage in a progressive and concerted manner will enhance the reputation of the Bonsucro standard and help to avoid labour and human rights violations, such as child or forced labour.
It is time to act. To modernise. To take a major leap towards real sustainability in the international sugar chain. Bonsucro can play a significant role in achieving this goal.
Voice of the Workers
Labour Rights Observatory for the sugar industry
To be able to improve labour conditions transparency and good data are vital. Therefore, in 2021 CNV Internationaal launched a Labour Rights Observatory for the sugar industry. We started conducting a groundbreaking survey in Latin America using digital tools.
As a result, more than 800 men and women workers from the sugar industry in Latin America were able to participate, providing us with data and vital information on labour conditions in the value chain of the region.
Now we're presenting the results of the first year through a Dashboard with clear graphs so you can explore some of the most relevant findings.
The role of CNV Internationaal
CNV Internationaal has been working actively together with Bonsucro and trade unions in Central and South America to contribute to the production standard since 2019. We are doing this in cooperation with trade unions, Bonsucro representatives, work group members, various experts, and companies from Nicaragua, Guatemala, Honduras, El Salvador, Costa Rica, Colombia, and Bolivia.
Videoblog: How to implement living wage?
Video Improving labour rights through social dialogue
CNV Internationaal, as a member of Bonsucro is actively engaging in the Bonsucro Production Standard. We do this not by ourselves but in close contact with the trade unions working in sugar in the different countries in Latin America to make sure that the voices of the workers are heard.
We support trade unions on the ground in their daily work to strengthen the social dialogue with employers to come up with solutions that benefit all people involved.
Learn more about the sugar network in which workers and union leaders from Guatemala, El Salvador, Nicaragua, Costa Rica, Honduras, Colombia and Bolivia join hands to share knowledge and make their voices heard.
Research - The Sugarcane Value Chain in Latin America and Asia
The research "The Sugarcane Value Chain in Latin America and Asia: Main Actors, Market Mechanisms, Labour Issues and Opportunities" realized by Profundo. includes a mapping of market dynamics, main actors, financiers, price formation, and social and environmental issues in a selection of producing countries. The study focuses on five Latin American countries (Bolivia, Colombia, Guatemala, Nicaragua and Peru) and three countries in Asia (Cambodia, Indonesia and Vietnam).
The road map is based on this research.