They work in conditions much like modern slavery. Some have not yet reached the legal minimum age of 16. They are so desperate for their protests to be heard that they are threatening to go on hunger strike.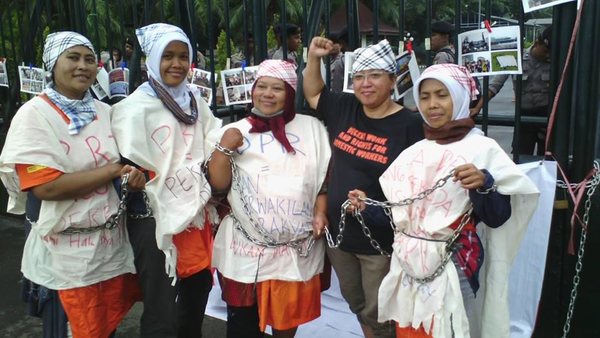 Including the migrants who work in Malaysia and other countries in the Middle East, another 6 million domestic workers should be added.
Long days behind closed doors
They work long hours and all for a pittance. There is hardly any way they can report mistreatment or abuse. Working behind closed doors, mostly without a contract, they are extremely vulnerable.
A legislative bill to protect the employment rights of Indonesian domestic workers has been on the agenda since 2010 but has been delayed time and time again. Some domestic workers have become so desperate, that they are threatening to go on hunger strike.
No ordinary employees
Their problem is that they are not considered normal employees and therefore cannot appeal to standard labour rights. In 2011 ILO adopted convention 189 on decent work for domestic workers, which has been implemented by many countries. Indonesian President Susilo Bambang Yudhoyono even pledged his support, as did the Minister of Labour and Migration.
CNV partner organisation SBSI calls on domestic workers to get organised and fight for their rights. SBSI lobbies intensively to get proper legislation approved. SBSI is a member of Jala PRT, the network of trade unions and other organisations that defend the rights of domestic workers in Indonesia, advocating in particular:
• decent working hours
• decent wages
• decent living conditions
• leave
• social security
Also, procedures should be put in place for dealing with abusive employers.
Publication date 08 03 2015