Blog from siem reap airport Cambodia
'Power of one is relying on the membership'
New strategies used to exploit airport workers in Cambodia

Lieke Ruijmschoot, program officer at CNV International is in Cambodia for a working visit to our partner trade union. CNV International's focus here is primarily on improving working conditions in the clothing industry. But also in tourism and in agriculture, we support local trade unions in tackling the many labour issues.
'Who was working at 8 p.m. last evening?' asks the president of the trade union confederation. We are visiting the staff of Siem Reap's international airport. Last night, upon arrival, our plane's wheels touched the ground for a second and then suddenly the pilot accelerated and the plane lifted off again, making another 15 minute round to return for a second attempt. Successfully this time, much to our relief. Oh, this happens a lot in the rainy season, the airport staff shrug – there are often strong winds in the evening.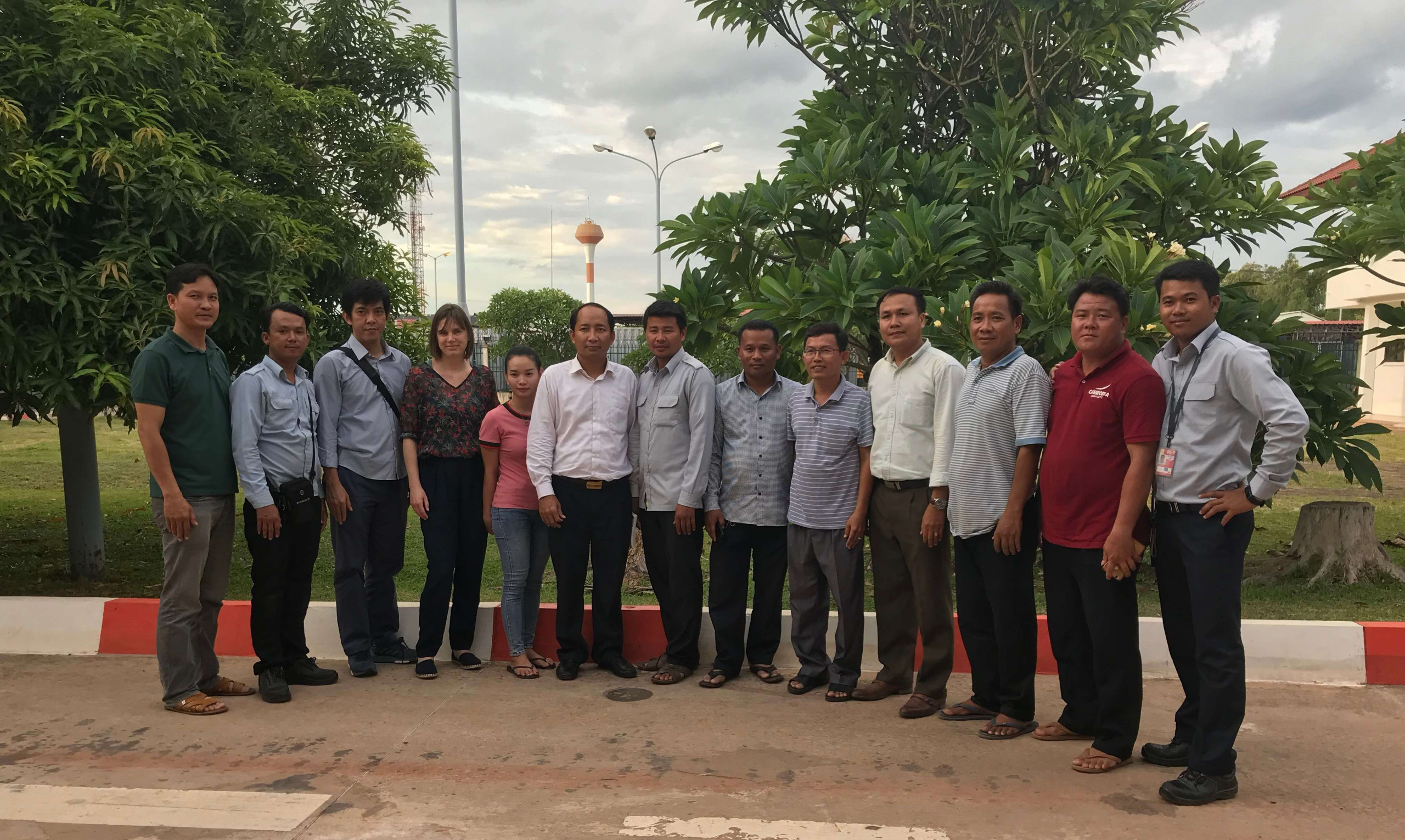 The stories keep me awake
Sweat is trickling down my back. There are several fans in the room, and the blue banner reading 'Power of one is relying on the membership' flaps in the breeze, but with 30 degrees outside and about 25 people gathered, it is hot enough to make me want to sleep.

But the stories I'm hearing today, translated from Khmer by our local contact person, keep me awake. The main concern of the workers is what they call 'multiple functions'. It is a new, cost-saving strategy of their employer.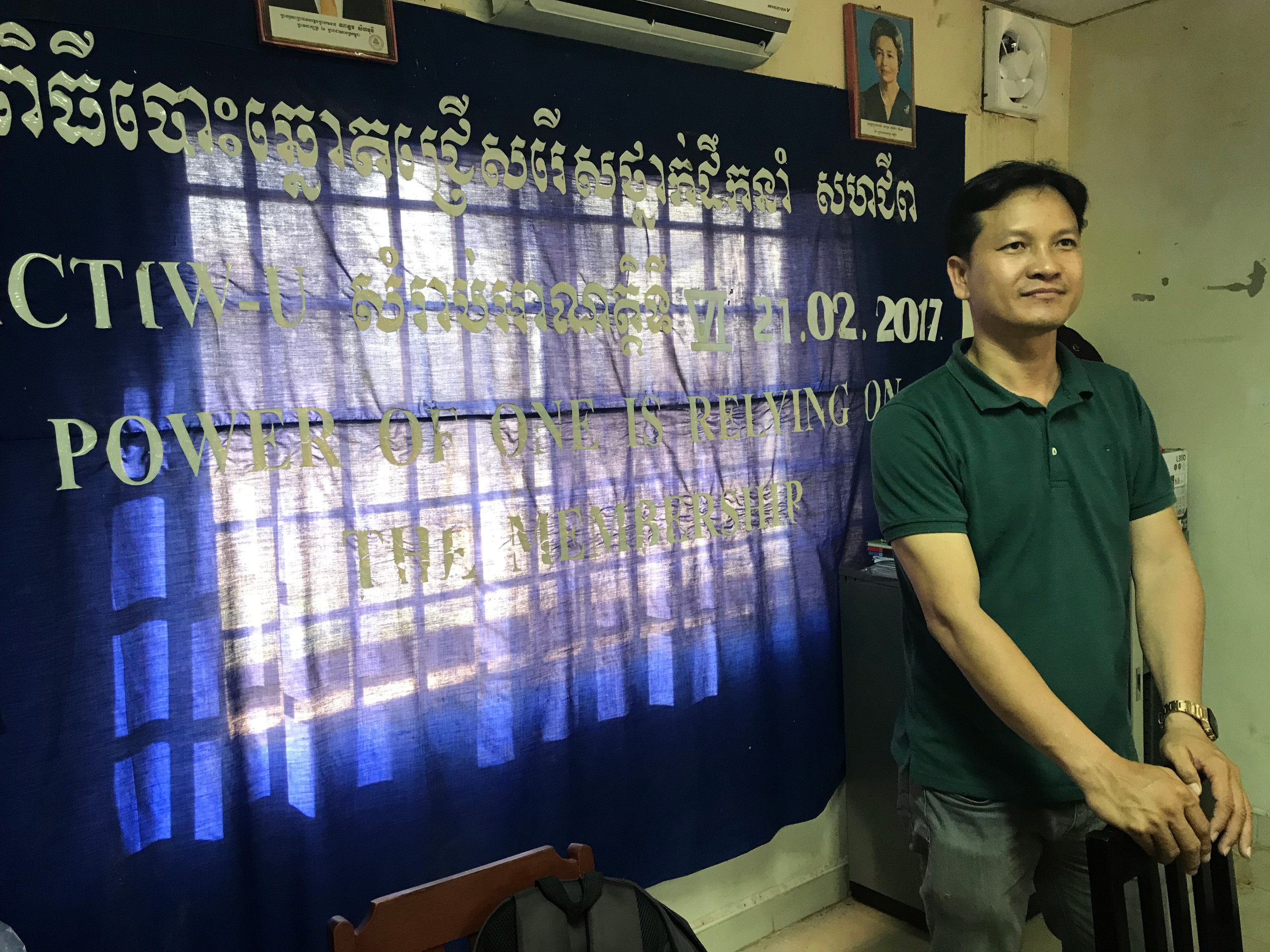 Siem Reap airport is 70% owned by the French company VINCI, and welcomed 4,5 million travellers in 2018. Of its 560 staff members, over 300 (of which 75 women) have joined the airport union. This union in turn is a member of the Cambodia Transportation Workers Federation (CTWF).
Important achievements
The union has been mobilising members and negotiating their demands with VINCI for a number of years, and three times they have been able to sign a Collective Bargaining Agreement (CBA). This agreement sets out all working conditions agreed between the company and the union(s), such as wages and working hours, but also holidays, health services, safety, complaints, and more.
For example, in the previous CBA, it was agreed that the salaries of the workers would increase with 20 -25 dollars for three consecutive years, 2014-2016. An important achievement considering the lowest salaries are around $300 a month.

However, the Collective Bargaining Agreement has expired, and the requirements for the union to negotiate a new one have become stricter. A union first has to obtain its Most Representative Status (MRS), for which it needs to prove that over 30% of a company's staff are members. The union applies for this status in 2015. But the Ministry informs them that it will not be conducting any registrations while the new trade union law is being prepared.

So the process continues only after this law is introduced in 2016. And the new law contains additional requirements. Finally, at the beginning of 2019, the status is confirmed and negotiations could start.
A driver with a cleaner contact
The company meanwhile, takes advantage of this lack of governance. Increasingly, it hires staff in a low paid position and rank, such as a cleaner (earning $300), and requests them to take up additional tasks. 'What kind of tasks?' I ask. Oh, it can be anything – check-in, driving luggage or passengers around the airport strip, communication with the pilot from the ground.
Officially, the salary for a driver is $390, but when performing multiple functions, the workers receive only the lowest salary. If they refuse, they can be dismissed.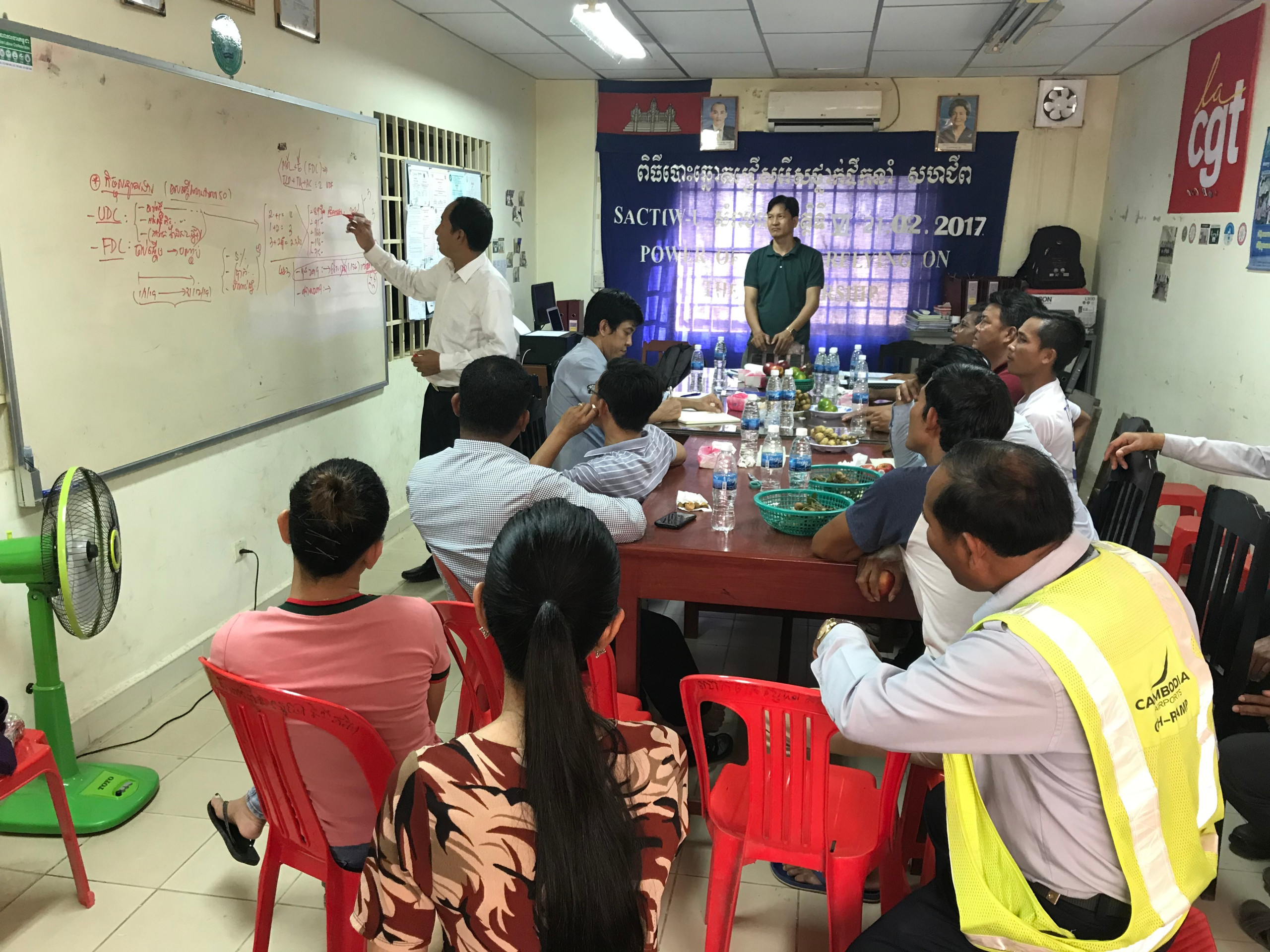 Forced to do inappropriate work
And there's more. More overwork is demanded of the workers, less staff is hired, and more of them on temporary contracts, which are more difficult to organise as members. Dismissals occur without prior warning.

One lady recounts: 'I was diagnosed with lung problems and told by the doctor I can no longer work in the check-in due to the pressure of the work. After joining the union, the company forces me to work in the check-in. A colleague with a leg injury has also been forced to do inappropriate work.'
Searching for new strategies
It is clear that without the Collective Bargaining Agreement, it is difficult for these workers to obtain their rights. We exchange ideas about strategies. Previously, they would strike, but this has been criminalised under the new laws. They have approached the French union active in the company's headquarters as well as the International Trade Union Confederation ITUC to support their cause. All to no avail so far.
I ask if it would help them if I write about their situation. 'Yes, it would.' Well, that's one promise I'm keen to keep.
More blogs and news regarding the work of CNV Internationaal in Cambodia
Blog from Cambodia - Defending worker's rights at a 5-star hotel in Siem Reap, Cambodia
Blog from Angkor Wat Temples Cambodia
Consultation on gender based violence at the workfloor in Cambodia