Large-scale event Indonesia on role of women
An event was organized on Tuesday, March 22, in cooperation with the Indonesian employers' organization GAPKI. The event was led by the Indonesian newspaper 'Harian Kompas', one of the largest newspapers in Indonesia.
During the large-scale online meeting, it was in particular the role of women in the current Indonesian palm oil industry that was discussed. A lot of factors are still not right, especially in the way women are protected during their work.
Elles van Ark, director of CNV Internationaal, spoke about the problems concerning the guarantee of safety for women in the world wide palm oil industry.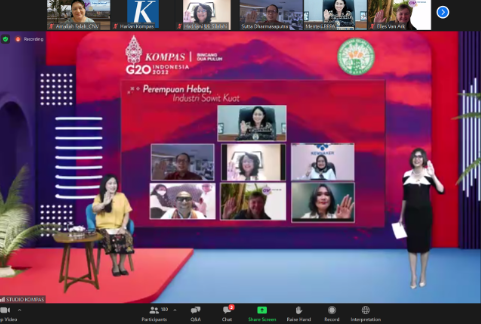 By working with partners like GAPKI, CNV International is committed to improving the conditions of women workers in the palm oil sector.
A majority of women: Indonesia's palm oil industry in figures
Palm oil is one of Indonesia's major exports. Developments in the palm oil industry are rapid and mean a lot for employment in the region.
43.5 million tons: annual palm oil production
3.61%: annual growth rate of the sector
20 million: people employed in the sector
60% workers: women
Women perform tasks on the plantations themselves, but are also employed in later stages of the palm oil process, including administrative functions. Attention to the role of women in the palm oil industry is still necessary, Elles van Ark stresses:
The problem we see everywhere is that women workers do not always get adequate protection. We also see that gender-based violence in the supply chain is a large issue.
Another problem lies in contracts: if women do have a contract at all, it is usually not very well protected. Women often do not have permanent contracts: they usually work in seasonal periods. The consequences are that they do not get paid maternity leave. These are ongoing problems."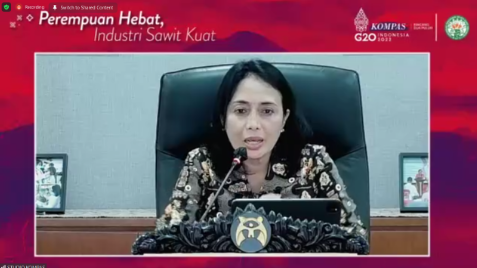 A whole world to be gained for women on palm oil plantations
From earlier research in collaboration with GAPKI and HUKATAN, it has already become clear that too many women still face low wages, little social security, and poorly designed health insurance. These are fundamental problems with relatively simple solutions. It is important that the responsible parties, such as governments, trade unions and organizations within the private sector, provide their direct input. Other problems that are still visible and need to be denounced: lack of protection for women in their workplaces and discrimination in selection of personnel based on gender.
Sumarjono Saragih, head of GAPKI's Labor Division: "Women are an undeniable part of the palm oil sector. They are involved in the chain in many different roles: as workers, as wives of workers, as daughters and - as we often forget - they are mothers of the generation that will decide the future of palm oil."
Read here the practical guide for palm oil companies, which resulted from joint research into the working conditions of female plantation workers. It is the Indonesian Palm Oil Association GAPKI, trade union HUKATAN and CNV International that jointly developed this guide.
Protecting Women Workers Palm Oil Booklet (EN, download PDF)
CNV International investigated the working conditions of workers in the palm oil industry and is calling ever since on stakeholders to join the Alliance for Change through Social Dialogue.
In doing so, a roadmap was developed to achieve sustainable change. It provides a step-by-step description of how to help stakeholders in the value chain work together in a good way with their workers and trade unions.
Publication date 23 03 2022