April 30th: premiere movie 'Archeology of the workers' dignity'.
The situation of employees in Guatemala has worsened by COVID-19. In a lot of workplaces people are not properly protected and risk contamination. Also many people are jobless because of the pandemic. It's a struggle for many families in Guatemala to get by every day and poverty has grown. This Friday, the day before international Labour Day, the union movie 'Arquelogía de la dignidad trabajadora' (translated 'Archeology of the workers' dignity') will premiere.
The movie, made by Uli Stelzner for CNV Internationaal and CGTG (the biggest union in Guatemala) shows in an artistic, documentary style way, the struggle of unions striving for better workers' rights.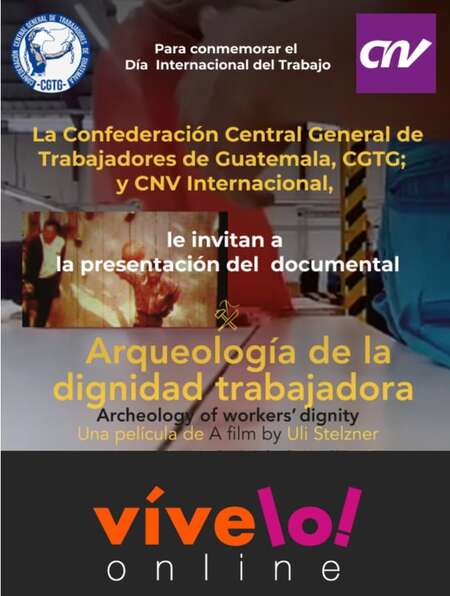 Dedication
Marjolein Groenewegen from CNV Internationaal: ' This movie follows two union leaders from two different generations. They strive for better rights of employees in the sugarcane and textile sector and the informal economy.
In Guatemala only two percentage of the employees are member of an union. Being a union member puts you in risk of losing your job.'
'Union leaders take even bigger risks, for they are often intimidated. Since 2006 over 90 union leaders lost their lives because of their work for an union. This movie shows the admirable dedication of two union leaders working for better workers' rights.'
Strong voice
Local authorities indicate that no more than 100 people should gather because of risk of contamination of COVID-19. But, the movie shows that employees of a textile factory still have to work together with 1.000 people.
The contamination figures at work are high. Groenewegen: 'COVID-19 makes it very clear that it is important for employees to stick together, become part of a union and have a strong voice against injustice in the working environment.'
After the premiere of the movie on Friday 30th of April in Guatemala, the documentary will be available in many movie theatres in the world.
Curious?
The trailer
Publication date 29 04 2021