The geopolitical impact of China, the US and Europe and the role of the Netherlands
Monday 25th October 14.30- 19.00 - Join us at Nieuwspoort The Hague or online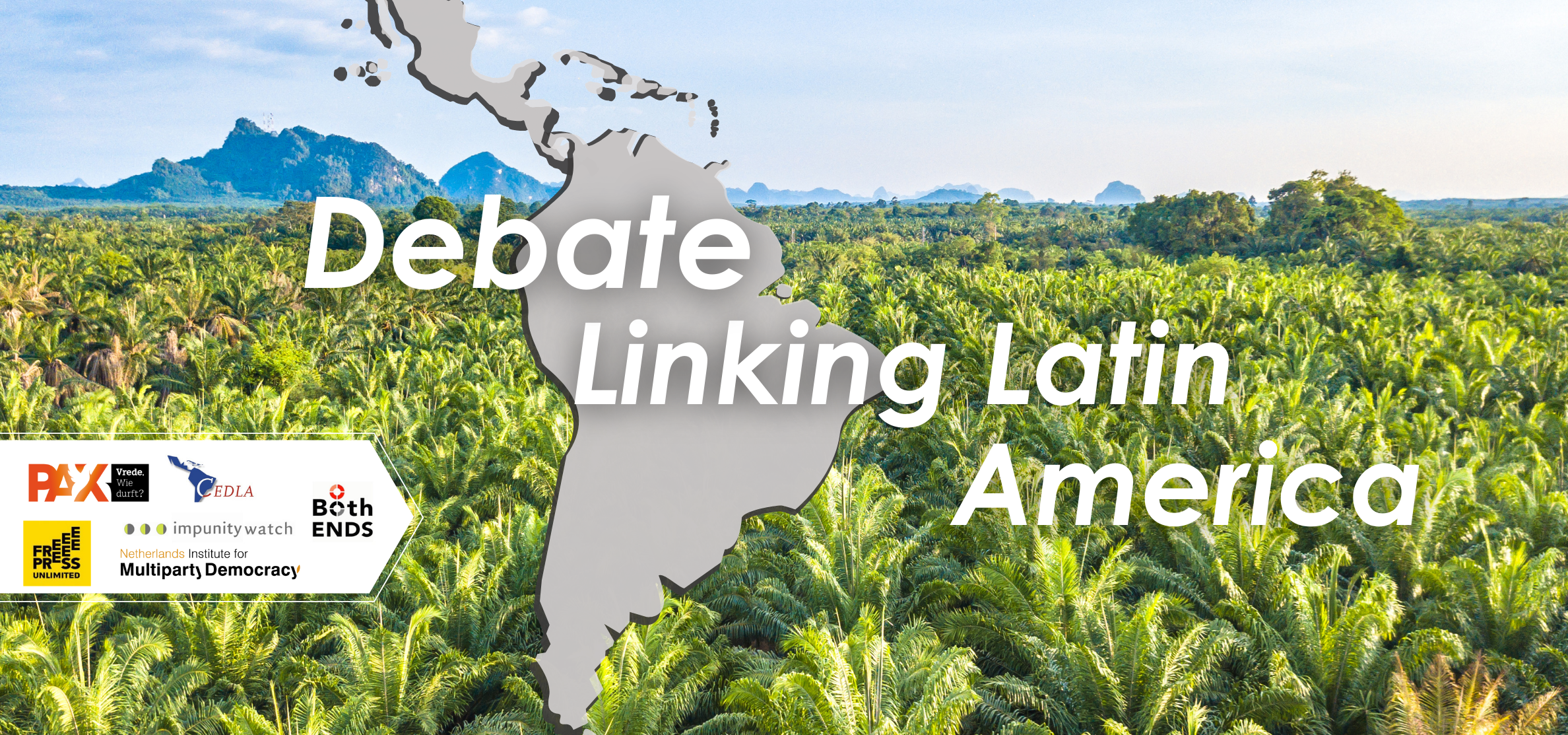 There can be little doubt that democracy is facing many challenges across Latin America today, with a rise in populist leadership, challenges to the rule of law, and crackdowns on dissent.
But what role does the shifting geopolitical influence of the United States, the European Union, and China have on political developments in the region?
Shifting geopolitical influence
The US, the largest economic and political player in the hemisphere, historically regarded Latin America as part of its geopolitical sphere of influence. China is a relatively new but ambitious player in the region. As well as looking to consolidate its position as a global power, China's interest is economic, driven by a need for raw materials to sustain its growing economy.
This raises concerns about environmental standards, the impact of Chinese imports on local manufacturing, and the issue of corporate responsibility, given that Chinese investments are rarely accompanied by requirements on human rights and democracy.
What role can the EU play?
Amid this struggle for influence between large powers, what role can the European Union and the Netherlands play, in particular when it comes to promoting democracy, the rule of law, responsible trade and human rights in Latin America?
These issues were the subject of lively discussion and debate at our Linking Latin America event at Nieuwspoort The Hague on October 25.
During the event CNV Internationaal, PAX, Free Press Unlimited, Both ENDS, Impunity Watch, Support Group Nicaragua and the Centre for Latin American Research and Documentation, welcomed a range of speakers from Latin America and Europe.
Please download the conclusions from the event to find out more.
Registration of the event is still available
Registration required - Sign up here if you wish to join us in The Hague
About us
A group of Dutch organizations (CNV Internationaal, NIMD, PAX, Free Press Unlimited, Both ENDS, Impunity Watch, Support Group Nicaragua) work together to raise knowledge and awareness on developments in Latin America and analyse the effects of Dutch and EU policy in Latin America and the other way around.
Pre- programme 13.00- 14.00
Movies that Matter film and discussion Guatemala (in Dutch ! )
Organized by Impunity Watch and CNV International ("brown bag" you can bring your own lunch, coffee/tea available)
Commissioned by union CGTG and CNV International, a special documentary was made about union work in Central American Guatemala, a country where union leaders are not sure of their lives.
The documentary shows through the eyes of 80-year-old union leader Pepe Pinzón and younger union leader Luis Cortéz that trade unions are vital, in a country where people are confronted daily with injustice on the shop floor and the plantations, repression and lawlessness.
After the film, journalist Edwin Koopman leads a panel discussion with Marielos Loch of AMDE, an organization of family members of victims of disappearances. Many victims were involved in actions against exploitation on sugarcane plantations in the 1980s. Impunity Watch supports AMDE's fight for justice and truth.
Trailer
Registration required for film programme | Sign up here
Main debate programme (in English)
14.30 - 14.45
Welcome
Elles van Ark (CNV Internationaal) and Thijs Berman (NIMD)
14.45 - 15.15
Keynote – Barbara Hogenboom - Changing relations between Latin America, US, EU and China
Dr Hogenboom is professor of Latin American Studies at the University of Amsterdam's and director of the Centre for Latin American Research and Documentation (CEDLA).
Keynote – Carlos Dada – Geopolitical changes, and the effect on rule of law, media and democracy
Carlos Dada, El Salvador, is the founder and director of the news website El Faro, which has become a reference for independent and high quality journalism in Central America since 1998 and is known for its investigations of corruption and violence.
15.15 - 16.00
Debate and responses from Dutch MPs with Ruben Brekelmans, Jorien Wuite and others
16.00 - 16.30
Break
16.30 - 18.00
Breakout sessions
Ø Session 1 International trade and extractive industries
With Mario Valencia from Cedetrabajo on the sustainability chapter, Joseph Wilde (researcher SOMO) on human rights due diligence, responsible disengagement and Just Transition and Sara Murawski (coördinator Handel Anders Coalitie) On the MercoSur negotiations, human rights and just energy transition and Edwin Koopman, journalist (moderator).
Ø Session 2 Civic space, protest and repression
With Colombian Milton Puertas from Citizen Diplomacy on sanctions, political analysts and gender experts Juan Melendez (NIMD El Salvador) and journalist Carlos Dada on shrinking democratic space, and Angela Rodriguez (NIMD Colombia) on protest and inclusive democracy, and Heleen Schrooyen, (NIMD) moderator.
Ø Session 3 Rule of law, state capture & international crime
With Guatemalan rule of law expert Claudia Escobar on corruption and impunity, Venezuelan political analyst Mariana Vahlis on rule of law and democratic space and Dutch scholars Kees Koonings and Julienne Weegels on the interconnectedness of governance, rule of law and violence, Marlies Stappers (Impunity Watch), moderator.
18.00 - 19.00
Closure and drinks
Registration required | Sign up here
Please note
We must comply with the corona rules that will then apply.
Currently, to gain access to Nieuwspoort a QR code (digitally via the CoronaCheck app or printed) or a valid recovery certificate or a negative test result no more than 24 hours old must be shown in combination with proof of identity.
Dutch (and is the language during the film programme. English is the language during the debate.
Admission is free, including coffee and tea. There is no lunch available, but you can, if you wish, have a sandwich or something similar (which you brought yourself) during the film ("brown bag.")
Registration is necessary, also due to the limited number of places.
For any questions, or if you might be unable to attend, please send a message to internationaal@cnv.nl
Live streaming
The plenary part of the main programme will also be available via live streaming:

Publication date 06 10 2021