Last year more labour and trade union rights violations occurred than in the past 8 years, according to the Global Rights Index, the annual report put out by world trade union organisation ITUC. Democracy has suffered in many countries, including CNV Internationaal's partner countries. Conditions have been especially unsafe in Colombia and Cambodia.
The index measures violations happening around the world in regard to labour and union rights. This includes the right to strike, the right to form unions and to become a member, the right to carry out union activities, the right to assemble and freedom of speech.
A new social contract for recovery and resilience
Research shows that governments and employers have used the Covid-19 pandemic as an excuse to let workers go, to violate their right to collective bargaining, to monitor their workers in ways that violate their right to privacy, and have infringed on freedom of speech and assembly. Working environments have become less safe, and union activities in Belarus, Colombia, Cambodia, and Myanmar have had limitations put on them. Workers' rights, in places like Honduras, India, Indonesia, Slovakia, and Uruguay, have been curtailed by governments implementing repressive legislation.
2021 has been a year of democracy being put under attack. The number of countries interfering with union registration rose form 89 to 109 in 2020. The number of countries where freedom of speech and assembly has been withdrawn or limited rose from 56 in 2020 to 64 this year. In particular, union leaders in Cambodia, Hong Kong, and Myanmar have been subjected to arrests.
There have been several positive developments in the area of legislation. An initiative for RBC legislation is currently being considered by the Dutch Lower House of Parliament. The Cabinet is also preparing building blocks for RBC legislation. If the European process for due diligence legislation takes too long, the Cabinet will use these building blocks to create Dutch legislation. Companies must be held accountable for problems in their supply chains. But much more still needs to be done. The international trade union movement should have a new social contract which includes jobs, rights, social protection, equality, and inclusiveness.
The 10 worst countries for working populations in 2021 are Bangladesh, Belarus, Brazil, Colombia, Egypt, Honduras, Myanmar, the Philippines, Turkey, and Zimbabwe.
The 8th edition of the ITUC Global Rights Index has ranked 149 countries on the basis of their respect for workers' rights.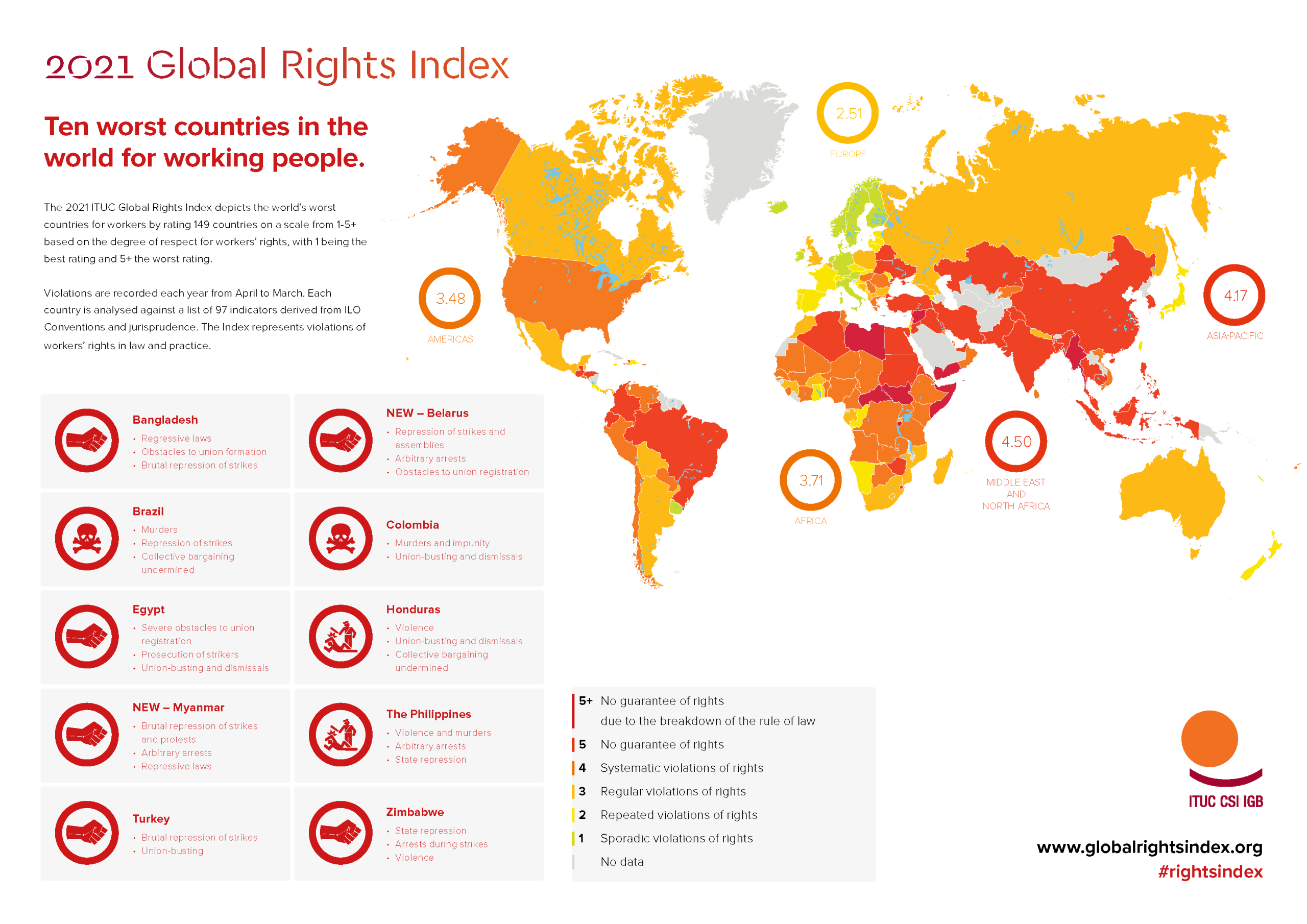 The most important findings
87% of the countries violate the right to strike
79% of the countries violate the right to collective bargaining
74% of the countries exclude certain workers from the right to form a union and become a member
The number of countries that inhibit trade union registration has risen from 89 in 2020 to 109 in 2021
The number of countries that limit freedom of speech has increased from 56 in 2020 to 64 in 2021
Workers in 45 countries are exposed to violence
Workers have little or no access to a judge in 65% of the countries
Workers risk random arrest and detention in 68 countries
Union members were murdered in 6 countries in 2020: Brazil, Colombia, Guatemala, Myanmar, Nigeria, and the Philippines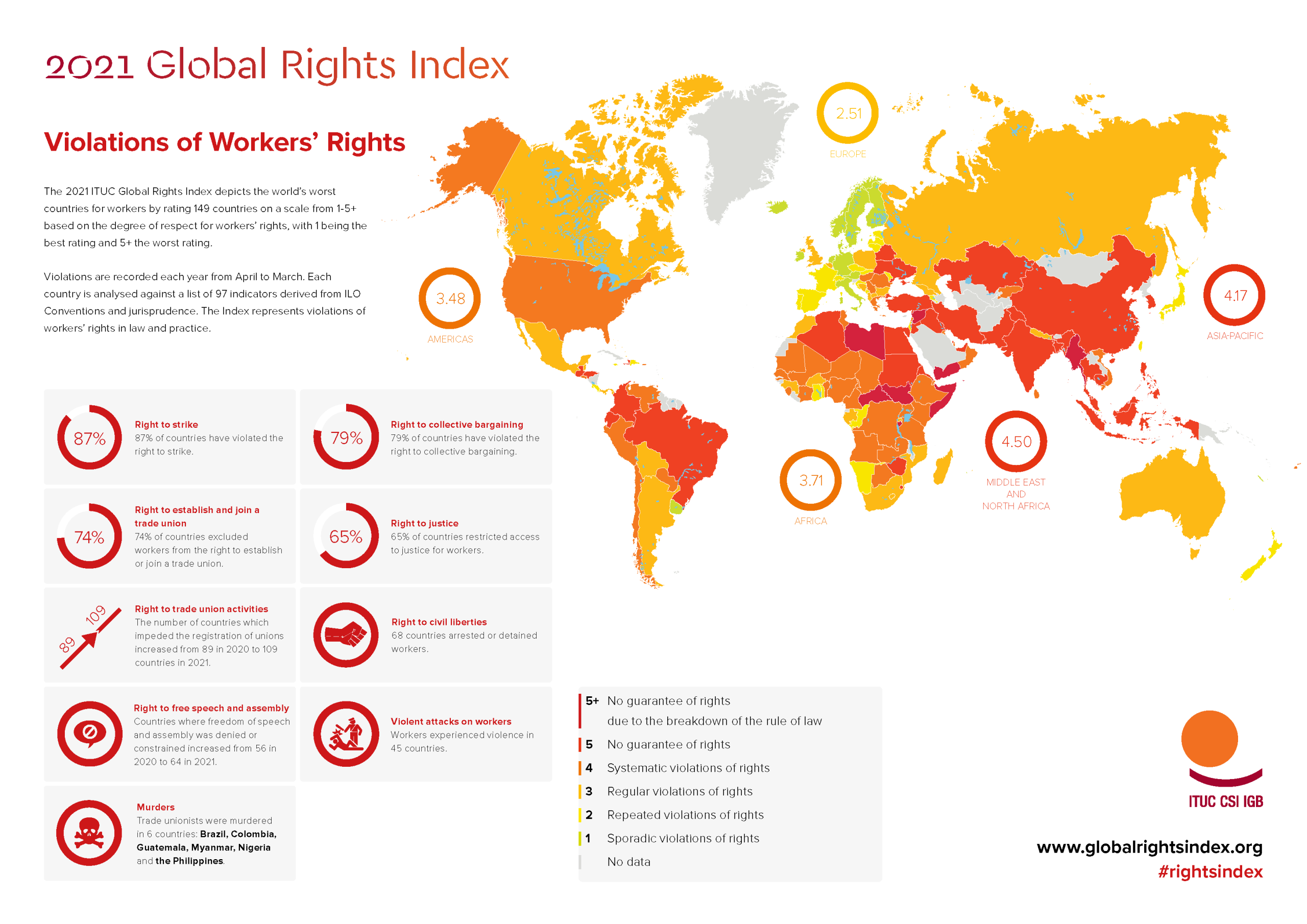 Download the complete study
ITUC Global Rights Index 2021
The International Trade Union Confederation, ITUC, represents workers from 163 countries. 332 national trade union organisations are members, including CNV Internationaal.
Publication date 09 07 2021