In Indonesia there are widespread protests against the government's plans for a new Omnibus law for employment. The bill is a major labor law reform that aims to attract foreign investors to the country. At the same time trade unions fear that pension schemes and severance payments are threatened.
The Omnibus Act is intended to replace 79 existing laws and more than 1,200 articles of law, ranging from labor and mining regulations to business licenses and environmental laws. The goal is to reduce red tape and attract international companies..


The Omnibus Act paves the way for flexibilization and outsourcing
However, the unions are opposed to the plans because at the same time existing labor rights are in danger of being jeopardized. By abolishing severance payments, the Omnibus Act paves the way for flexibilization and outsourcing, and employees are at risk of losing their social security. Such as old age and retirement plans. Criminal sanctions for employers who do not comply with the rules are in danger of disappearing.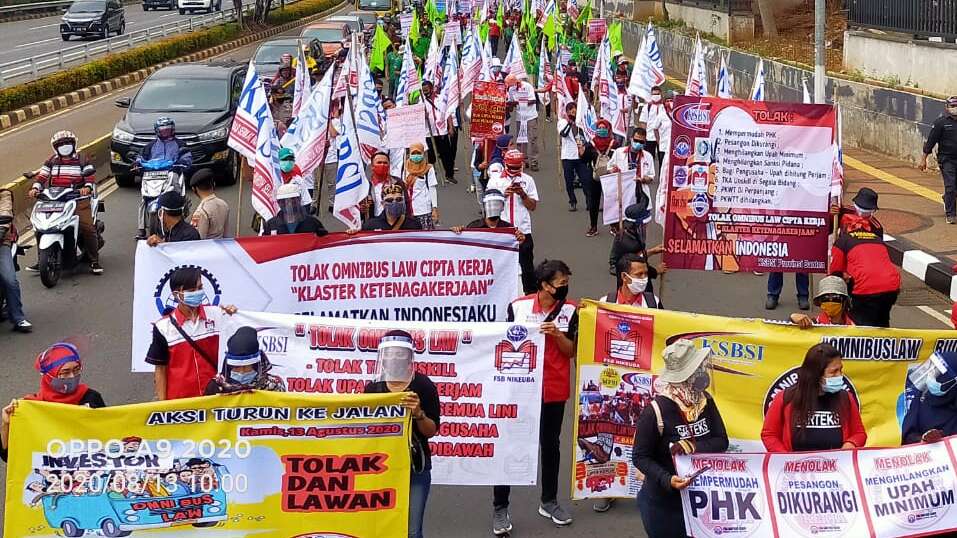 Trade unions such as CNV Internationaal's partnerorganisations KSBSI and its federations Hukatan and F. Lomenik and others reject points of the Draft Omnibus Law on Job Creation and call on the government to amend the bill. Trade unions say the law affects not only workers' welfare, it's a problem for all Indonesian people.
Publication date 13 08 2020