Guatemala
Youth empowerment and inclusion project
The objective of the Youth Empowerment and Inclusion project of the Civic Engagement Alliance in Guatemala is to contribute to the construction of a favorable environment for the inclusion of voices and demands of youth in Guatemalan public policies.
To achieve this goal, we strengthen the leadership and advocacy capacities of youth and youth organizations. Promoting the participation and inclusion of youth is a fundamental issue in Guatemala, a country in which a large part of the population is young, and in which youth, particularly those from indigenous communities, are excluded and marginalized. ICCO Cooperation develops this project in partnership with Kerk in Actie, CNV Internationaal and Wilde Ganzen. Local partners include Sociedad para el Desarrollo de la Juventud (SODEJU) in 2017 & 2018, Movimiento de Trabajadores Campesinos (MTC) in 2017 & 2018, Central General de Trabajadores de Guatemala (CGTG) in 2017 & 2018 and the Asociación Cristiana de Jóvenes (ACJ Guatemala) in 2017.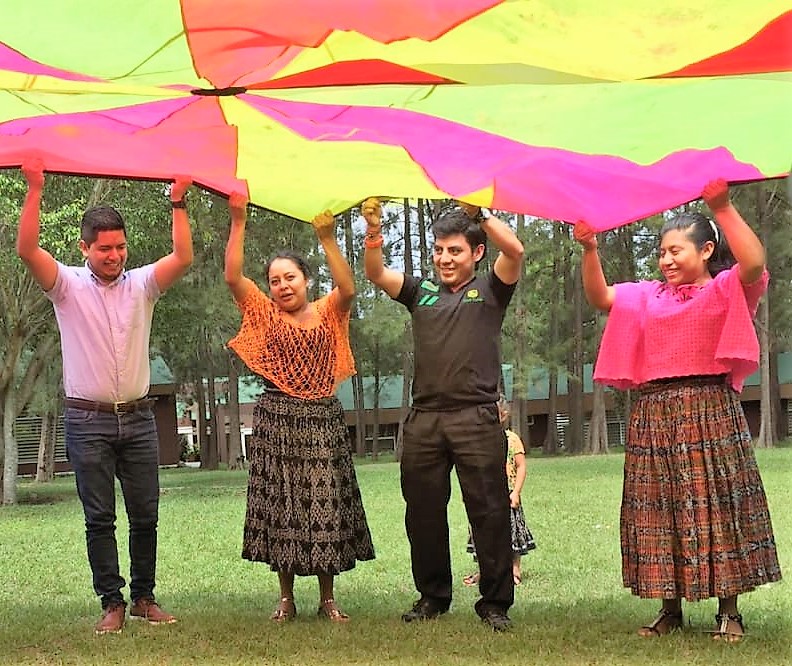 Young people are not a homogeneous group in Guatemala´s society. There are huge differences in income levels, opportunities to study and to find appropriate and decent work, access to services, differences in gender equality and in exclusion and discrimination, based on ethnicity.
The lack of opportunities to study and to find appropriate and decent work, affects the majority of young people - and above all young women - living in rural areas, where public and private investment are scarce.
Education
In Guatemala, public education services are mainly concentrated in urban centers. The number of young people from rural areas who complete studies is lower than from urban areas, and those who do finish their studies show serious deficiencies in language and mathematics exams. This translates into lower opportunities for youth from rural areas - including indigenous youth - to access university and decent jobs.
Employment
Public and private investment aiming at generating employment for youth is scarce in rural areas, impeding youth to be productive in society and to participate. It is estimated that in Guatemala each year, an average of 140.000 young people join the Economically Active Population (EAP); however, official figures indicate that young people represent 74% of the total unemployed and 55% of the underemployed population.
Violence
Youth not only suffer from unemployment, but also from violence from gangs (mara's) and narco's in their immediate surroundings. Often, they are victims of crimes from these groups, or they suffer from pressure and intimidation which make young people actually join these groups. Youth between 12 and 25 years old are the most likely to become victims of violence: 50 out of 100,000 youth were killed in the period 2017-2018(1). Young women are especially vulnerable to violence.
Migration
Given the lack of opportunities and increased vulnerability, migration to urban centers and especially to the north (United States), becomes one of the few options young people see to move forward and even survive. 77% of the total number of Guatemalans living in the United States are young, between the age of 15 and 34.
Weakened institutions in justice sector
Guatemala is currently going through a weakening of institutions in the justice sector. The last years a climate of impunity arised and the country saw a backward step towards achievement in favor of the rule of law. That's why civil society organizations had to make efforts to denounce repressive measures, the violation of human rights and the corruption of institutions.
It is of great concern that human rights organizations had to go to the Constitutional Court repeatedly in the last four years, to prevent acts against the International Commission against Impunity in Guatemala, the Institution of the Attorney of Human Rights. Likewise, actions have been promoted to curb legal initiatives, generated in the Congress of the Republic, which may favor impunity and corruption.
As the rule of law and legal institutions in the country becomes weaker, it is important that youth become politically aware and take action in order to fight for their rights and their future opportunities. This especially counts for the rural areas where labor and human rights violations are frequent and opportunities for youth are scarce.
(1): Report about homicides in Guatemala 2017-2018, Dialogos (Observatory for homicides, funded by the Open Society Foundation)


The main strategy of the Civic Engagement Alliance program in Guatemala is to bring together urban youth organizations, youth committees of trade unions and rural (indigenous) youth movements to empower and support them in policy influencing on issues which are in youth' interest. Within Civic Engagement Alliance, there is close cooperation with the National Youth Front, a national platform for advocacy for youth rights, where several civil society organizations converge, including partners of the Alliance in Guatemala (SODEJU, MTC and CGTG).
Capacity strengthening, using the Change the Game methodology, is one of the intervention strategies. In addition to capacity strengthening for lobby and advocacy, youth organizations are supported in stronger organizing themselves to have greater impact, and they are trained in democratic and political issues. At different levels, from local to national, youth are supported to lobby for specific issues, to improve their living and working conditions.
Gender approach
The intervention strategies, supporting youth voices, are gender sensitive, focusing in particular on women's rights and promoting women's participation. Alliance partner MTC, for example, plays a crucial role in the emancipation of indigenous girls and young women. Women are usually disadvantaged because of their lower education levels and cultural patterns, which form an obstacle for them to take independent decisions, travel independently and speak out in public. However, in MTC there are empowered groups of young indigenous women who study at university, work voluntarily with MTC in their spare time and are role models for other girls and women in their communities. This is a direct result of the work of MTC and the more recent support from the Civic Engagement Alliance, which has created more possibilities for young women from indigenous backgrounds to acquire knowledge and experiences on several topics, among others on leadership and policy influencing.
Political developments
The overall strategy of Civic Engagement Alliance has been well chosen and has generated very positive results. However, the political developments in Guatemala during the program period have been a challenge and have urged the program partners to be flexible. For example, lobby at national level became extremely difficult and even impossible when almost the whole national parliament was involved in corruption scandals and trials. Therefore, the partners of the Alliance decided to focus more on lobby, advocacy and campaigns at local and regional level, while the National Youth Front continued to lobby at national level. This strategy - focusing at the local and regional level - resulted in a growth in the number of youth participating actively in Civic Engagement Alliance program. At the local level authorities show more willingness to meet the demands of young people.
Since democracy is more and more at risk, it has been extremely difficult to obtain the final adoption in Parliament of the law on inclusion of youth. Faced with a political scenario of instability and the weakening of the rule of law in Guatemala, new spaces were sought to influence youth inclusive policies. The political situation in 2018 led to diversion of the attention of public officials and authorities in other matters, ignoring the demands of youth sector representatives. But we see for example youth organizations taking advantage of the reconfiguration of political leadership with regards to the 2019 electoral process, to promote the youth's agenda and proposals.
Summarizing, we learned - due to the political developments in the country, especially the corruption scandals in Parliament - to prioritize and assign greater resources to advocacy actions and strengthen the base of the youth movement at the municipal level, instead of focusing on lobby and advocacy at national level. In order to obtain greater credibility and collegial support, alliances with educational, academic and research institutions are being created and strengthened.

3. Results of capacity development
Capacity development for lobby and advocacy: in 2017, 15 people (youth leaders and representatives from organizations supporting young people) were trained on lobby and advocacy through Change the Game Academy. In 2019, an additional 15 people were trained.
Political capacity development: 90 young people, representatives of allied organizations (SODEJU, CAJA LÚDICA, ACJ, MTC, CGTG, FNJ), completed a training process, supported by the Central American Institute of Political Studies INCEP and the Santiago Development Project - PRODESSA. The topics addressed were: planning and programming, proposals preparation, lobby & advocacy and leadership techniques and how to speak in public. The main emphasis was the establishment of alliances with social and political actors at the municipal, departmental and national levels. As a result, upon completion of the training process, all participants had to present a strategic plan per organization; they mapped human rights defense institutions (local, municipal and departmental) and made an inventory of decision makers.

Joint strategizing for lobby and advocacy: to define a joint strategy for lobby towards adoption of the Youth Development Law and a National Youth Agenda, a forum for analysis was held in the People's Hall of the Congress of the Republic with the participation of 50 young people from Civic Engagement Alliance partners and allies. The President of the Congress Youth Commission and the Youth Ombudsman also attended.

Organizational strengthening of the National Youth Front: the National Youth Front brought together the voices of young people in a unified way from different regions and levels to influence policies at different administrative levels. The network also actively includes voices from indigenous youth groups, such as youth leaders from the Poqomchi group in Alta Verapaz and indigenous youth leaders from San Marcos.

Supporting young workers on labor issues: trade Union CGTG participated in the lobby and advocacy training of Wilde Ganzen, and in meetings of the National Youth Front. It advised and supported young workers of San Marcos on labor issues at plantations and strengthened the capacity of CGTG's youth commission.

Keeping the indigenous identity alive: the program has also contributed to keep the indigenous identity alive among the youth in Alta Verapaz and San Marcos from the Poqomchi and Mam ethnic groups. Mayan spirituality, as an experience of life and understanding of the human being as part of nature, has come to enrich the Christian spirituality which plays an important role in the social transformations of young people. In training and meetings, elderly were invited to share their values and to support the youth in their development.

Example: 'I learned that it is possible to make yourself heard by decision makers'
As Jaime, one of the youth leaders from Civic Engagement Alliance partner MTC in San Marcos stated: 'Being part of the Civic Engagement Alliance and of the National Youth Front opened my eyes. Living in the rural and remote area of San Marcos, I believed I had no influence whatsoever on decision making at national level. Through the Civic Engagement Alliance I started learning from the experiences on lobby of SODEJU and I received training from Wilde Ganzen on lobby and advocacy. I have learned that it ís possible to make yourself heard by decision makers, even if you come from the remote rural and indigenous area of San Marcos. For me, it is an incredible change to have meetings now, as youth leaders both from rural and urban areas from the Civic Engagement Alliance, with a member of Parliament who is in charge of youth affairs. He listens and tries to support and advise us. Although we have not managed to get the National Youth Law approved by Parliament so far, our political skills grow as well as the awareness among the youth in our organizations about their rights and the duty of the Government to create supportive policies for youth – the future of the country. We try to be constructive in our dialogue and in the national campaign 'Being Young is a Right in Guatemala'. We are living in very difficult times in Guatemala, where citizens and civil society organizations have less and less freedom of speech and were speaking out has become dangerous. But we continue, one day we will be the local and national leaders of our country and we will bring our values and our vision forward; we are preparing for that.'
Results towards more youth inclusive policies and better opportunities for youth
Lobby for the approval of National Youth Law: the National Youth Front regularly approached legislators, including heads of the political party groupings represented in Congress and the Congress Youth Commission, in order to lobby for the approval of the National Youth Law (# 3896). The result was overall commitment of the congressmen to approve the law, and was accepted in first and second reading. In third and final reading, however, the law did not get final approval but was replaced by initiative # 5208, which incorporated sexual and reproductive rights. These issues had been controversial, slowing down the approval process in Congress, due to pressures from conservative stakeholders. Unfortunately, there is no certainty that the law will be approved soon.

Membership Congress Youth Commission: as a result of the lobby for the National Youth Law, the National Youth Front and SODEJU became permanent members of the Youth Commission of the Congress.

Promoting youth' rights: the multimedia campaign 'Being Young is a Right in Guatemala' was carried out, aiming to promote the rights to employment, education and migration of youth. We reached 800,000 people through the websites of Civic Engagement Alliance partners and 5 platforms of Youth Networks. In a coordinated manner, the organizations raised awareness in society about the serious problems that affect young people, including messages focusing on the rights of young women. The campaign was developed with a rights and cultural relevant approach, therefore, it could be adapted to a variety of cultural contexts within the country. In the messages, equality and gender were considered cross-cutting issues. Most of the messages were recorded by young female radio announcers. The desired change is the increase in the number of participation of young women in decision making. The campaign was done through various communication channels at local, municipal, national and international levels.

Municipality youth support: as a result of the different capacity development interventions, local groups influenced decision makers at local levels. For example, representatives of the Youth Network of Tamahú (members of the CJP), carried out advocacy activities targeting the municipality. As a result they obtained resources to develop activities commemorating the month of youth.

Youth support in San Marcos Department: in San Marcos, the youth councils of the partner organization MTC established dialogue processes with the authorities of their respective municipalities. This process was carried out in the municipalities of Sipacapa, Concepción Tutuapa and Sibinal of the Altiplano Region and San José El Rodeo and San Pablo of the Costa region. As a result of these negotiations with the municipal authorities, in at least one of the municipalities the implementation of the Municipal Office for Women and Youth was approved, with the aim of establishing municipal policies to benefit women and youth. Additionally, in the Municipalities of San José El Rodeo and San Pablo, the youth leaders of the MTC were allowed to join the municipal youth commission. The youth from MTC also gained space at departmental level: they have been selected as delegates from their municipalities to participate in meetings of the Departmental Council for Urban and Rural Development (CODEDE).

Lobby for decent work in San Marcos: youth leaders in San Marcos, representing indigenous youth that often work at plantations, have been lobbying for decent work for youth. Research has been carried out on labor conditions in the plantations. MTC uses its digital radio station 'La Voz de la Buena Nueva' (voice of the good news) to promote advocacy messages and information on inclusion of youth in decision making and on decent work for youth and women.
4. Expertise and Capacity
Civic Engagement Alliance members ICCO Cooperation, Kerk in Actie, Wilde Ganzen and CNV Internationaal support the Civic Engagement Alliance program in Guatemala.
ICCO Cooperation coordinates the program at country level, from the national country office in Guatemala.
Kerk in Actie has partners in Guatemala which have a long history of implementing projects related to employability and entrepreneurship of youth.
Wilde Ganzen developed the Change the Game Academy, a methodology for capacity development on lobby and advocacy and resource mobilization. These training sessions have been implemented in Guatemala, to support and train youth groups and organizations to make their voices heard and demand their rights. Through Change the Game Academy, 30 youth leaders and representatives from organizations supporting young people have been trained on lobby and advocacy and 10 representatives from organizations supporting young people on local fundraising.
CNV Internationaal has much experience in lobbying for labor rights and decent work, and brings in its network and experience with trade unions.
SODEJU, ACJ, MTC and CGTG formed the alliance of organizations in Guatemala. Each organization plays a differentiated and specialized role and has a trajectory and institutional expertise that complements the rest of the organizations that make up the consortium.
Through 'learning circles', the four organizations learned from each other during the first two years.
SODEJU shared its experience on political influence on youth issues.
ACJ shared its methodologies to work with youth empowerment, especially in the rural area of Alta Verapaz.
MTC shared its work, empowering youth and women in rural communities of San Marcos, where exploitation of plantation workers – also youth and women - is very common. They shared their experience on youth inclusion in local and departmental government's decision making.
Trade Union Confederation CGTG shared its work on defense of labor issues at national and local levels and updated the other members of the alliance about labor law and the ILO Conventions signed by the Guatemalan government. This approach at the very beginning of the program helped to empower all participants and to build bridges between the youth from rural and urban areas.
An example of the good and smooth sharing of expertise, was the role of SODEJU in involving the other participants in the National Youth Front. SODEJU also took the lead in developing the campaign at national level 'Being Young is a Right in Guatemala' with all platform members. A campaign which spread rapidly through social media platforms all over the country and which gave youth a shared identity.
6. Sustainability and Accountability
At the level of the individual youth, the training on leadership and lobby and advocacy skills and the strengthening of youth' local and national networks contribute to the sustainability of the intervention. Also, integrating youth in municipal and departmental structures contributes to sustainability of the intervention. Wilde Ganzen also gave training to partners on financial sustainability of organizations.
Accountability
At the local level, organizations have been implementing social audit exercises, where the community members meet in an assembly and ask the leaders of the youth movements for the management of resources. National legislation is rigid with regard to the use of funds from abroad; as a country vulnerable to drug activity and ungovernability, there is a legal framework to prevent corruption and money laundering.
Four national level youth networks, members of the National Youth Front, published messages related to the 'Being Young is a Right Campaign' and promoted them in social media networks (Instagram, Facebook and Twitter). 40 local networks, also members of the National Youth Front, reshared those messages. There was coverage in 18 of 23 departments and there were records of approximately 800,000 views on social media networks. The campaign contributed to sensitize the authorities and to impulse the implementation of municipal youth offices, as well as to provide youth with resources (financial, human and material) to carry out activities of youth agenda's, such as promotion of products, cultural festivals, planning meetings, sport events, etc.
The MTC has a radio (Voice of the Good News), with which it broadcasted messages within the framework of the campaign. Through the radio, actions and events were coordinated to publicize the rights of youth in the Costa and Altiplano region. The Central General of Workers of Guatemala (CGTG), collaborated to identify and train young people who assumed the commitment of carrying out the campaign. Radio programs have been broadcasted to publicize the progress of the content of the National Youth Law initiative, as well as the rights of youth and their inclusion in the municipal economy. Through fora, festivals, sporting events and fairs, awareness among the population and the authorities is reinforced.