Violence and harassment towards women are deeply rooted problems in Benin. Verbal and psychological violence, which varies from threats to verbal abuse to bullying, damages girls and women starting at a young age. It affects their self-esteem and mental stability. Research shows that 66% of the women in Benin have experienced some form of physical and/or psychological violence. Despite efforts from the government and social organisations, many women still hesitate to ask for help.
Partner union COSI's "Brise le silence" (break the silence) campaign encourages women to break this silence around violence and seek help. COSI says that this approach to violence and harassment is an important result stemming from CNV Internationaal's programme. "The most important goals are to help women raise their voices and to get them access to legal and psychological help, as well as good health care.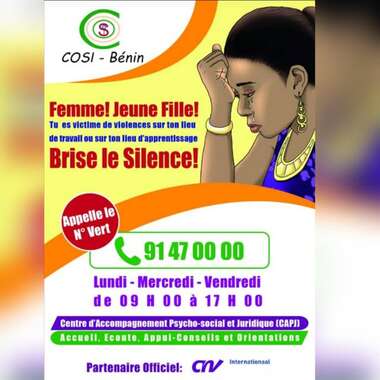 Helpline
COSI is easier to contact due to a free helpline for women, including those outside the capital. The COVID-19 pandemic has brought about an increase in violence and harassment. CAP (Centre d'Accompagnement Psychologique en Juridique) gives COSI in Benin a leading role in dealing with these problems at work. In addition, COSI is working hard to get Benin to ratify ILO Convention 190 for the abolishment of violence and harassment at work.
Talking is the best option
eing sexually abused repeatedly by my boss, it showed up clearly in my behaviour and in my work. I was upset for months and I felt so humiliated. I couldn't afford to quit or lose my job because I have two children and my husband is abroad. So I decided to keep my mouth shut instead of looking for help. But since I've come into contact with COSI's helpdesk team, I think it's better to talk about it."
Lucrèce SOHOU, (real name is known by COSI)
Angéla Kpeidja, journalist for public television in Benin, dealt with sexual harassment at her work for years. She has finally broken her silence and made an important contribution to breaking the taboo around talking about this abuse.
It works | read more stories of change
More about tackling violence and harassment at work
Publication date 19 11 2021