Archeology of the Worker´s Dignity
CNV Internationaal and the Guatemalan Trade Union organisation CGTG (Confederación General de Trabajadores de Guatemala) officially launched the documentary "Archeology of the Worker´s Dignity" on Friday 30th of April. German film-maker Uli Stelzner produced this thought-provoking documentary which follows the obstacles that Guatemalan workers and trade union leaders meet in their search for better working conditions and the respect for workers' rights. With this film, Uli Stelzner brings under the attention the suffering of those who for generations have been working in poor conditions and who face terrible circumstances in their daily lives.
Uli Stelzner comments: "The filming was complicated, we realized that on the South Coast of Guatemala, there is a lot of persecution. But with the local population we were able to film shocking scenes and collect testimonies that reflect all the difficulties and organizational problems of the workers."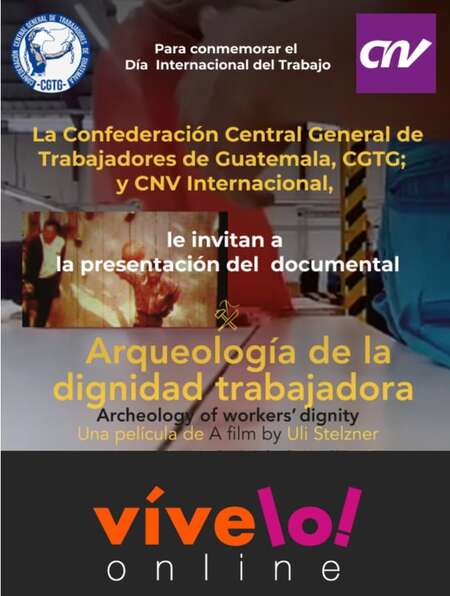 The documentary gives a voice to organized workers through the eyes of legendary trade union leader, Pepe Pinzón, and his struggle to maintain and save the trade union organization CNT and later the CGTG, especially during those terrible times of persecution and assassination of social, peasant and trade union leaders in Guatemala.
The film also portrays the harrowing realities of workers in the rural areas and the difficulties they encounter when they address the systematic injustice and the lack of protection for workers.
Rights are not free
CNV Internationaal Senior Program Officer for Latin America Marjolein Groenewegen remarks: "We wanted to inspire young people about trade unionism; show the sacrifice and struggle of trade union leaders to speak out and realize job improvements. We supported the making of this documentary, because of the importance of exposing the reality which exists in the different economic sectors of the country. It has to wake us up about what is happening in the country. Rights are not free; they are earned through the efforts of trade union leaders and their organized bases."
Here to serve workers
Pepe Pinzón expressed: "We are here to serve workers. It has been difficult but we have overcome the difficulties and we are still present".
The documentary is available to everyone from May 1st onwards.
For more information please contact: Mónica Garzaro, Observatory of Labour Rights Guatemala, https://observatoriodl.org
Trailer
Publication date 03 05 2021