It's possible, it's doable, it's reasonable
Sugar, it's an important source of energy and taste. Imagine a supermarket without all products containing sugar, it would be rather empty. It would mean no sweets, no cookies, no rum or other drinks. It would also mean no ethanol as a source of of energy made from sugar.
As vital as cane sugar production is for the economy of many tropical countries is, as vital are the workers for its production. And as vital sugarcane is for sugar worker's to earn a livelyhood in these countries. CNV Internationaal's research, realized by Profundo is a mapping of the current situation.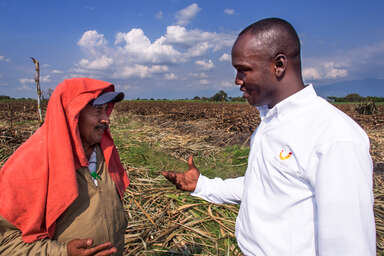 It underlines the urgency to make the sector more sustainable, as many workers do not even earn a living wage now. A situation that leads to problems like poverty and child labor. The study not only describes the situation in the sugar producing countries but also the market mechanisms such as price setting, sales and profits in the value chain.
The encouraging final conclusion however is the sugarmarket florishes and that there's economic room to make improvement possible, including the introduction of a living wage.
Learn more about the circumstances in Asia and Latina Amerca and why it is possible, doable and reasonable to include a living wage in the Bonsucro Standard that is currently being revised.
The Sugarcane Value Chain in Latin America and Asia
Main Actors, Market Mechanisms, Labour Issues and Opportunities
Learn more on the steps to implement a Living Wage in the Bonsucro Standard
Publication date 14 06 2021