The abbatoir is a school
In Senegal you learn by doing
Most young Senegalese work in the informal sector, with low wages and almost no protection. What, in their view, would social dialogue and certification mean? What's it like to take a company course while on the job? We pay a visit to a fish farm, a trade union, an abattoir and a sewing workshop.
Author and photographer Eline Huisman, published in Vice Versa, September 2019
With a mixture of shyness and pride, Abdul Khadre rubs his upper arm. Without saying a word he tenses it—revealing impressively muscular biceps underneath his Portuguese football shirt. He is standing on the quay in the port of Rufisque, a suburb of Dakar, where the catch of the day is being brought in. The last dugouts sail in, traditional wooden boats Senegalese fishermen use to go out to sea and catch sardinella for thieboudienne, the national dish of rice and fish.
Abdul Khadre's work is finished; it's now up to the boys that bring the fish ashore. They lug the fish from boat to quay, the dripping crates balanced on their heads. The catch is tipped out onto theasphalt for the waiting buyers.
Besides sardinella there are pilchards and bream, and a cart full of swordfish passes by. It's a grey Sunday afternoon—good for the catch, according to Abdul Khadre, because the fish swim closer to the surface of the water.
He has worked in the fishing industry here for years, it's all he knows, just look at those powerful arms. As a child he came here everyday, as did the other boys from the city. They collected the fish that had fallen onto the beach to sell them. Now he's one of the men on the boat fishing. It's day labour. You get paid for a day's work, and learn the job at sea. No employment contract, no training or qualifications. No security. If you want to go out on one of the boats you have to be at the quay early in the morning.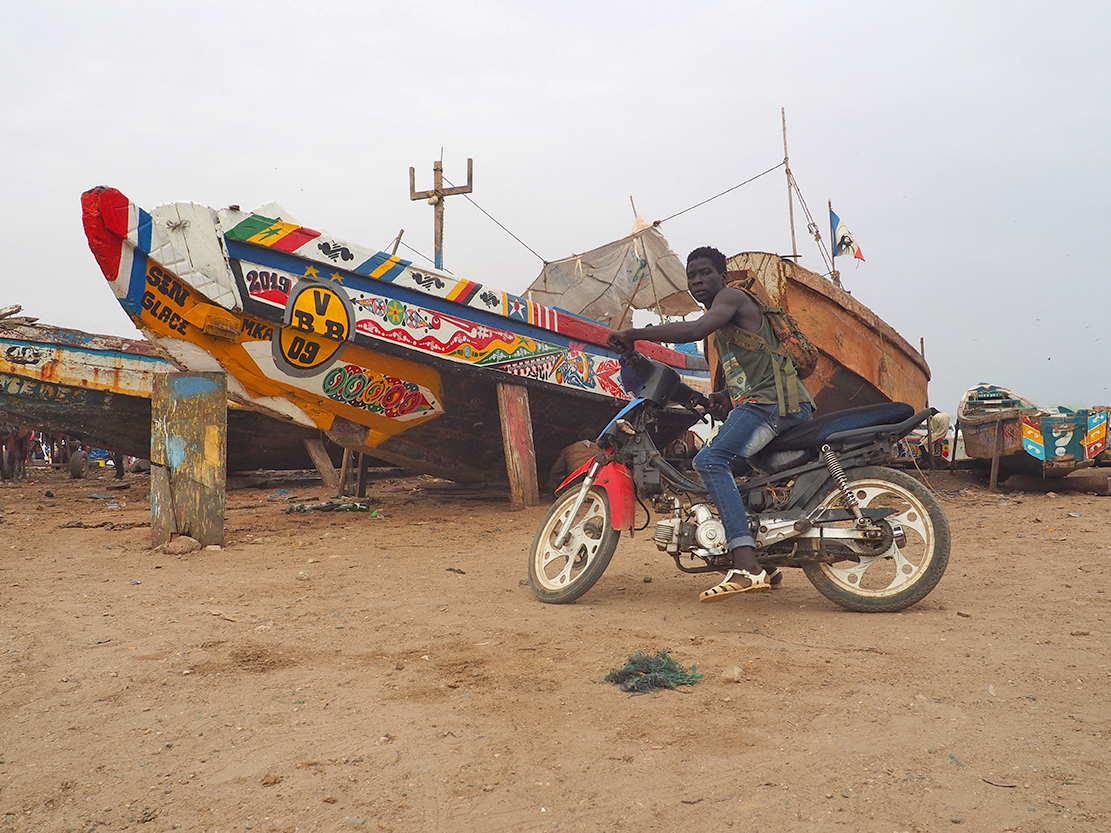 A young man leaves the harbor - the colored boats are ashore, they finished their working day.
This is life for many people working in the port—from 'transporters' who bring the fish ashore, to the girls who sell bags of salt to preserve the fish, the women who clean the fish or grind them into mince on site; most of the jobs here are informal.
It is estimated that the fishing industry provides jobs for seventeen percent of the working population, although the figures vary because it's hard to get statistics about informal work. The fishing industry is no exception: according to a report by the World Bank of 2018, nine out of ten workers are employed in the informal sector.
On the surface economic prosperity in Senegal looks promising: for years the economy has been growing by six percent and the outlook is good. As of 2022, growth figures will be even rosier, thanks to the anticipated offshore oil and gas extraction. Yet poverty and inequality persist in this West African country. According to the World Bank, for a large number of people this can be attributed to the weak labour market; the working population is growing faster than the number of jobs.
Youth unemployment is at nine percent, compared with six percent overall. Moreover, almost two-thirds of young people (a relatively high figure) are inactive. And for those who have work it is often informal, performed under vulnerable conditions, with low wages and virtually no social protection.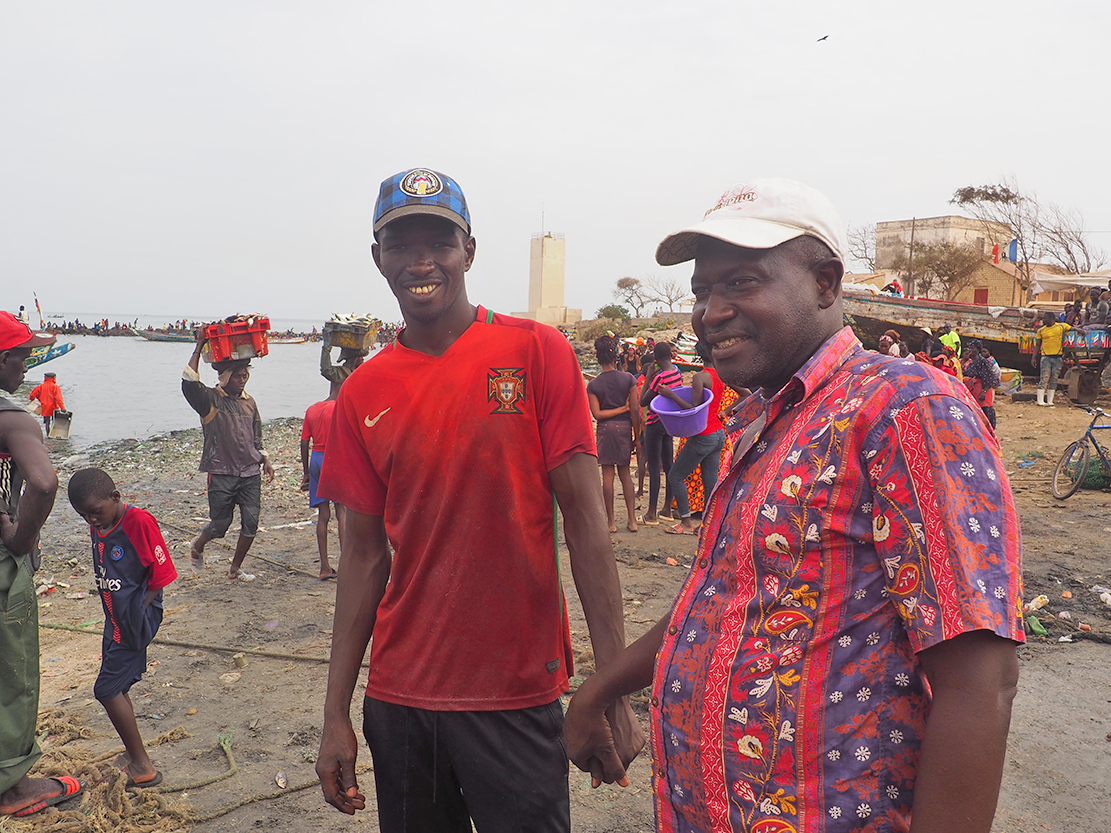 Abdulkhader (left) in the port of Rufisque, where the catch of the day is brought in
As a result, two-thirds of working young people between fifteen and 35 live in poverty. Employment and decent jobs are crucial in order to offer the fast-growing young population any prospects. However, employers in the private sector complain that the gap between the skills they require and those young people have to offer is too large. And Senegalese education barely helps prepare them for the labour market.
How could you ensure young people's skills are better aligned to the needs of the labour market? And how do you shift young people from informal to formal work? We take a look at the authorities, trade unions, employers and the young people concerned.
Pikine, stuck to the eastern side of Dakar, is often referred to as a suburb of the capital, but with over a million inhabitants, it is officially Senegal's second largest city. It is a place that has visibly exploded into a city; unpaved sandy roads lead to crowded blocks of houses, with grey, unpainted walls and the many shops have been improvised from pieces of cloth and wooden poles.
Lots of the Senegalese who escape the countryside looking for work in the capital end up here. The UDTS (Union Démocratique des Travailleurs du Sénégal) trade union is also based here. This local trade union collaborates with the Dutch trade union CNV International on the theme of youth employability, by involving them more actively in policy that concerns them. At the trade union their voice is afforded a permanent place on a special youth committee, the Comité National des Jeunes de l'UDTS (CNJ).
CNV Internationaal provides young people with training in negotiating and lobbying, in which the time-honoured CNV method of social dialogue is key: the focus is on consultation instead of going on strike and standing up for rights through confrontation with the authorities. The idea is that seeking common interests allows you to find better long-term solutions.
Today the CNJ in Pikine is meeting to discuss youth employability. "A ticking time bomb," says chairman Malick Sow softly. "Over half of Senegalese are younger than thirty and every year 200,000 more young people enter the labour market. That's a huge challenge." Sow has an IT consultancy firm, which he founded with the trade union's help following a two-year study programme. "At UDTS I received training in entrepreneurship, human resources topics and labour law—skills you don't learn at school. It meant I could set up my own business, instead of waiting."
Sow explains that in any case official jobs are few and far between, and when they do crop up, young people are often not eligible. "Companies always require a couple of years' experience, but where are we supposed to get it?"
A round of introductions among the members of the youth committee and the answer is crystal clear: each and every one tells about how they followed an internship, then training, then an internship, and so on, before ending up in their current job. Three of the seven young people—most of whom are almost thirty years old—work in the formal sector. "A piece of luck," Sow exclaims, "because finding a 'real job' before you are 35 is rare here."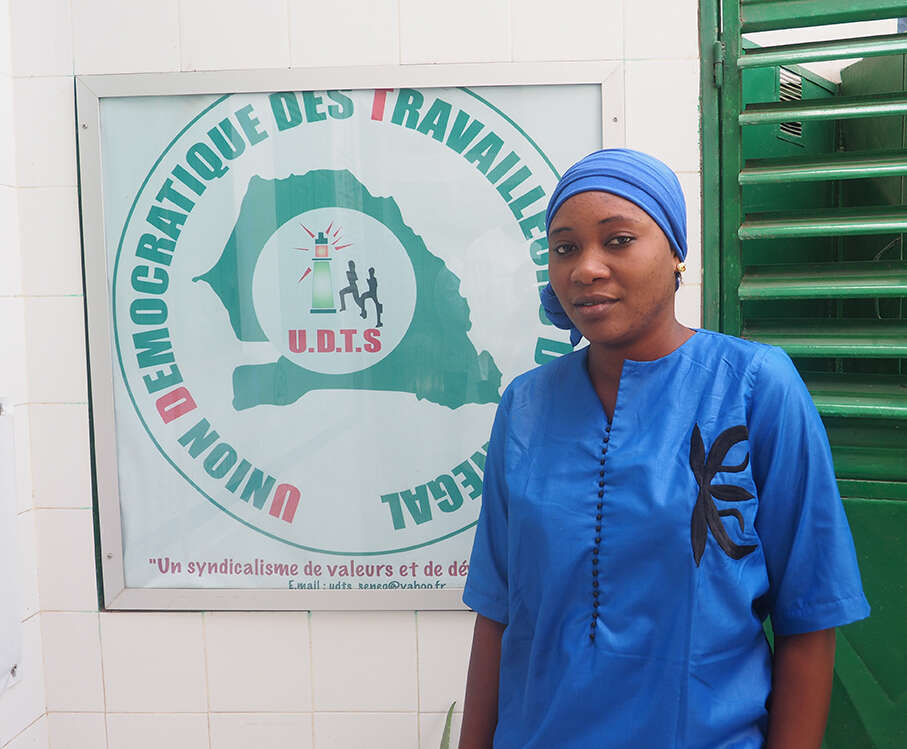 Nurse Khady Diakhaté is a member of the youth committee of the UDTS trade union.
Yes, a bit of luck. "But it didn't just fall into my lap," says Khady Diakhaté, dressed in a blue nurse's uniform with a matching headscarf. "When I was training to be a nurse, an internship was a fixed component of the programme, but I couldn't find a paid job after getting my diploma."
The public hospital in Dakar first asked her to follow a threemonth internship, after which she was twice again offered a threemonth internship. "I accepted," she explains, "in the hope of getting a job. After nine months of unpaid internships I stayed away for two months, I couldn't cope any longer. That was when the trade union began negotiating with my boss. Now I finally have a contract."
"After nine months of unpaid internships
I stayed away, I couldn't cope any longer"
Nurse Khady Diakhaté
Young people don't consider it unusual for employers to ask you first to take a job placement: the fact that Senegalese education often fails to satisfy the requirements of the workplace is a wellknown problem. Educational programmes are usually general and not job-oriented. An internship at least provides young people with the possibility of getting the necessary experience.
That's why, in the CLA negotiations, the UDTS trade union also advocates for the creation of internships. "However, the fact that the internships are not always paid, is unfair and unacceptable," says foreman Sow. "We are urging the government to abolish unpaid job placements. In principle they agree with us, but we are not there yet."
"Our young people, energetic and creative, embody the hope and strength of Senegal. They will continue to be our top priority," promised President Macky Sall when he was re-elected in February. "We will invest even more in work and youth employability."
It was a promise that, in 2012, enabled him to defeat the incumbent President Abdoulaye Wade, for whom masses of young Senegalese had voted twelve years earlier as "the young people's president". But what had Wade—far into his eighties—actually done for them? This question rouses the young people of Y'en a Marre ("We've had Enough") Senegal to action. The movement of journalists and rappers spurred the youth on, with music and protest meetings, to political awareness. It led to mass demonstrations in the run-up to the presidential elections.
A remarkable situation in a country that is always praised for its stability. Senegal is the only country in West Africa where there has been no coup or civil war since its independence. Finally, Wade had to step aside for Macky Sall, who won the election. The young people of UDTS seem to have patience with their incumbent president. The trade union's youth committee is also part of the National Youth Council, which represents young people in consultation with the government and social organisations in relation to youth policy.
"We engage in effective consultation with the government," explains chairman Sow. "Naturally, there is a lot of work to do, but not everything is in the hands of the president. For us it is important that the government recognises that youth employability is a crucial theme—and it does."
One example of successful negotiations between trade unions, the government and employers is the École-Entreprise programme, which was launched last year by the president, as part of his strategy for a "Senegal on the rise". In three years' time, 25,000 young people should have a place in this practical-based programme.
"This is the first programme in Senegal following a Swiss model," presents Mbaye Sarr proudly. He is the chairman of the vocational training committee of the employer association CNES and saw for himself how young people in Switzerland are largely trained in the workplace. He is incredibly enthusiastic about the dual model.
"Young people learn what a company requires from them and education is perfectly aligned to the labour market. What's more, they immediately get a taste of the company culture."
He cites the example of the 24 young people trained at the five-star hotel Terrou Bi on the coast in Dakar, where they received internal training in the catering and hospitality sector on a trial basis. Sarr explains that it has increased the participants' job opportunities considerably. "Nineteen of them now have a job, a number at the actual hotel and the rest have managed to obtain work elsewhere, with a little help from the boss."
From the age of sixteen at École-Entreprise you can choose between diverse sectors, ranging from catering, hospitality and tourism, to energy, farming, transport and electromechanics. The Ministry of Employment, Vocational Training and Trades connects the young people with the firms. "Ten thousand places are already available," reveals Michel Faye, coordinator on behalf of the Ministry. "It is our task in the coming years to link up as many companies as possible to our plan."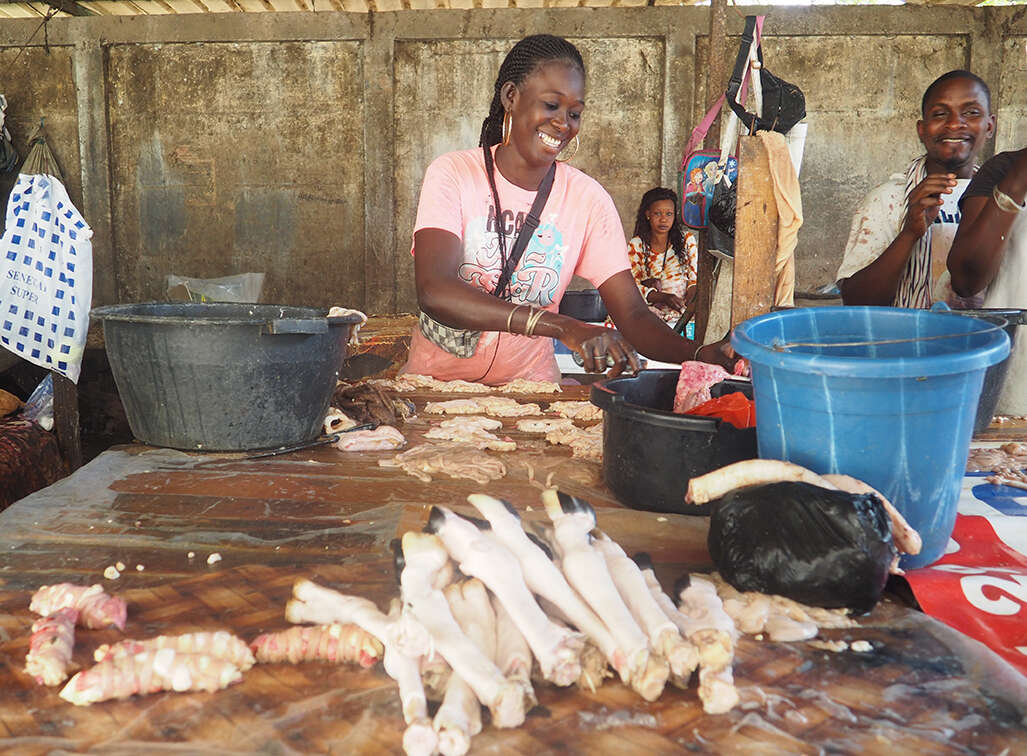 One of the few women who works around the abbatoir makes sausage from sheep meat
Mbaye Sarr's responsibility is to support him on behalf of the employers. "The first year the government pays forty thousand CFA francs," he explains. Or: sixty euros, compared with the Senegalese minimum wage of ninety euros a month for a full-time job. "The second year the contribution is halved and the company supplements it with twenty thousand. In the final year this ratio is ten thousand to thirty thousand francs."
He believes it's a win-win situation for everyone: "Three years later, the student has a qualification that is worth more than a theoretical course and the employer has a well-trained employee, who has been shaped to meet the needs of his business."
Eigenlijk is het niets nieuws, zegt Abou Sy van vakbond UDTS. Hij staat midden in het slachthuis van Dakar, omringd door halve koeienkarkassen die klaarhangen om in stukken verdeeld te worden. Hij werkt nu voornamelijk als penningmeester bij UDTS, maar is zijn werkende leven hier begonnen.
In fact, this is nothing new, according to Abou Sy from the trade union UDTS. He is standing in the middle of the abattoir in Dakar, surrounded by halved cow carcases, ready to be cut into pieces. Today his main job is as treasurer for UDTS, but his working life began right here.
"We have been training people in the workplace for years," he says. "The only difference is that here your education doesn't get you a diploma." This is where Sy came right after completing his studies to become a geography teacher. He couldn't find a job and learned how to earn his money as a kind of meat broker.
In his district he bought sheep and goats to bring them here to be slaughtered. He sold the meat on. "An academic as butcher," he grins. "But knowledge of books doesn't get you very far here. In Senegal there is no official training for becoming a butcher anyway. You often learn the job here, in the abattoir."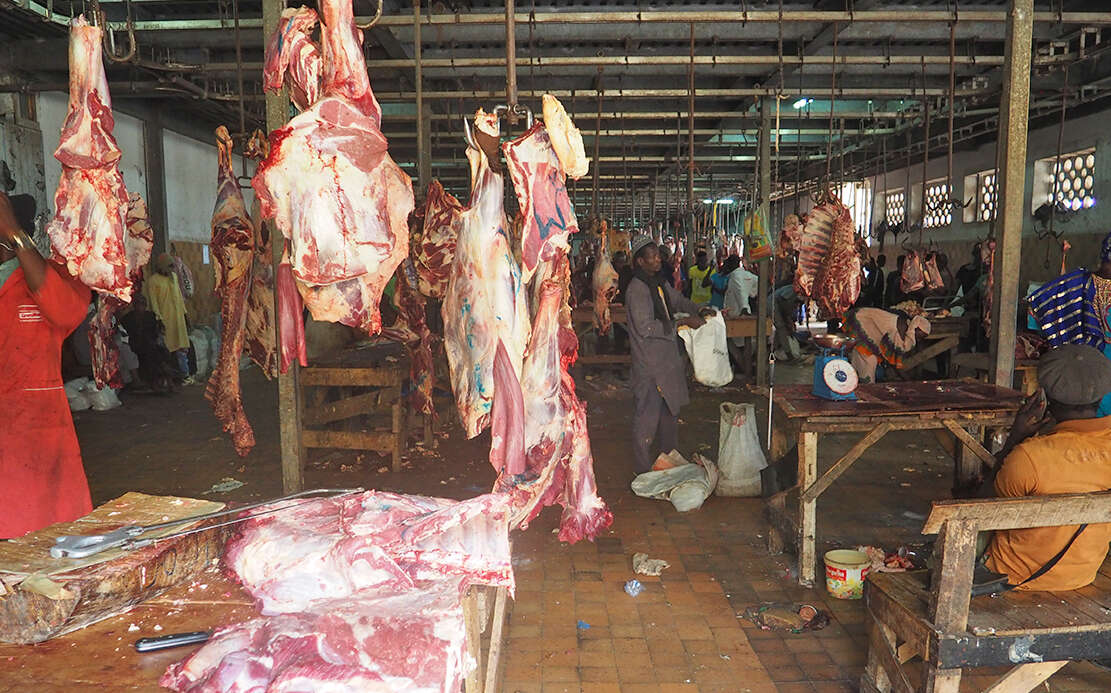 Informal and formal work are mixed in the abbatoir of Dakar
The dividing line between the informal and the formal sector runs right down the middle of the site. At the rear of the abattoir men—informal workers—steer a seemingly endless line of cattle to their destiny. The men secure them one by one in the rack, slit their throats and place the shuddering bodies on the pile, which will shortly be hauled on to the cable guide and pass by the workers where they are gutted; formal work, performed by the abattoir's certified employees.
A little further away in the sales room stands a young man engrossed in negotiations with a family about a piece of meat. "Khadim," he introduces himself. He also trades meat. He has brought five cattle here today. "Not a big prize," he says, "sometimes I manage up to ten."
But it's not a bad thing: the refrigeration system has broken down. "We are negotiating with the abattoir about the repairs, but the question is who is going to pay for them." He admits that it is one of the disadvantages of informal work. But what choice does he have? Without any papers there is basically no alternative. "This is something the trade union can help with," explains Abou Sy of UDTS. Although he still comes here occasionally as a meat broker, his trade union work takes up more and more of his time.
"Our key word is: formalisation. Young people like Khadim do possess skills, but they don't have formally recognised qualifications. This makes them vulnerable." Without any qualifications Khadim does not have the option of applying as a butcher for a formal job in a restaurant with more social rights and job security.
"Exams and certificates would make these young people more independent," Sy says. "It would mean they could ask a higher price or apply for a permanent job, with salaries up to three times as high." It is one of the priorities when lobbying the government. In the meantime, Sy urges the young people to get organised. "If they speak as a united voice, the bosses will be more prepared to listen to them."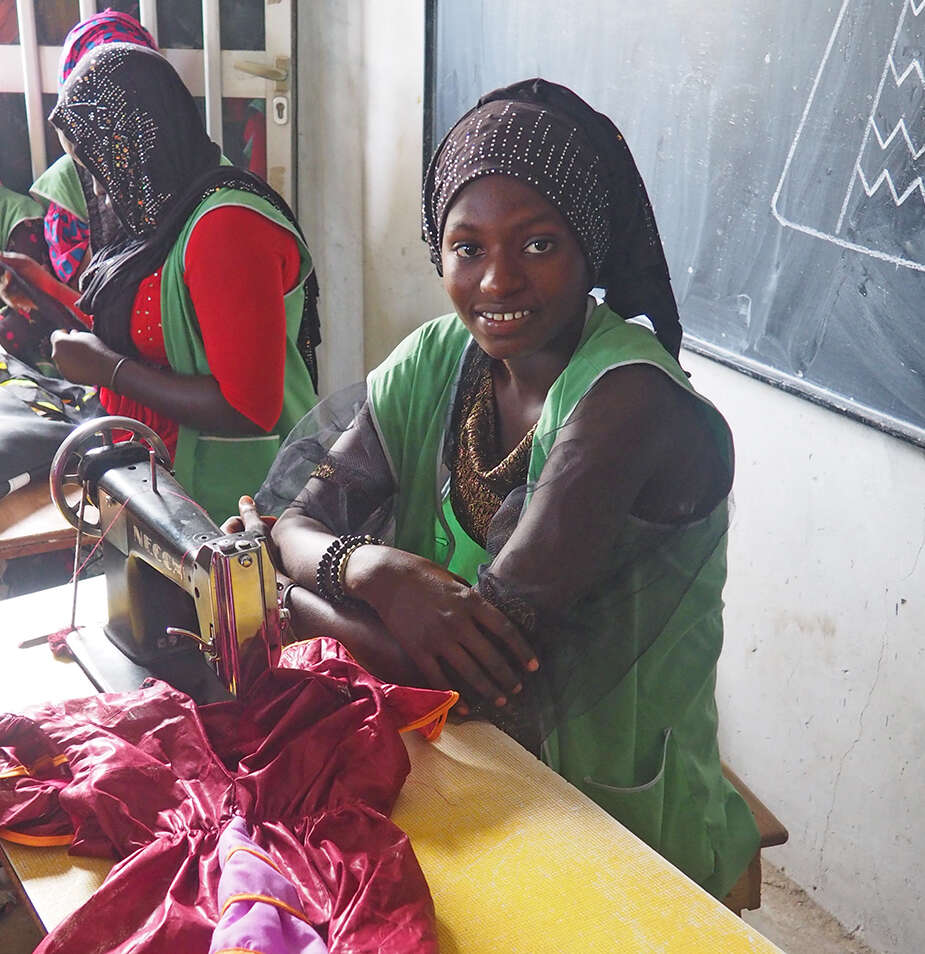 In the sewing workplace of Diamaguene, girls without a primary school diploma are trained in the profession.
The sewing workshop of three couturiers in the neighbourhood of Diamaguène in Pikine demonstrates how providing young people with qualifications can increase their chances. The three friends, Bada Mbaye, Ameth Guisse, and Moussa Fall, saw how the girls in their district struggled with the lack of any future prospects. Many of them left primary education, due to a lack of money or because it was difficult for them to keep up.
Outside of their own businesses they decided to open a sewing workshop where girls and young women could learn the profession. They teach there for free, the girls pay five thousand francs a month. There are currently 140 young women studying here, aged between thirteen and 35.
It is a matter of making do: one room is available each year and in total there are a dozen sewing machines to go around. They're the traditional black vintage Singer machines, "donated by the American Embassy", reveals Guisse. The workshop relies on donations of fabric and other material and it has not yet been possible to draft a multi-year plan.
Progress is made in small steps. The government recently decided to officially certify their training course—the girls now receive a real diploma and this is bearing fruit. Mbaye proudly hands over a contract from one of their former pupils: she is now working for the army, where she repairs soldiers' uniforms.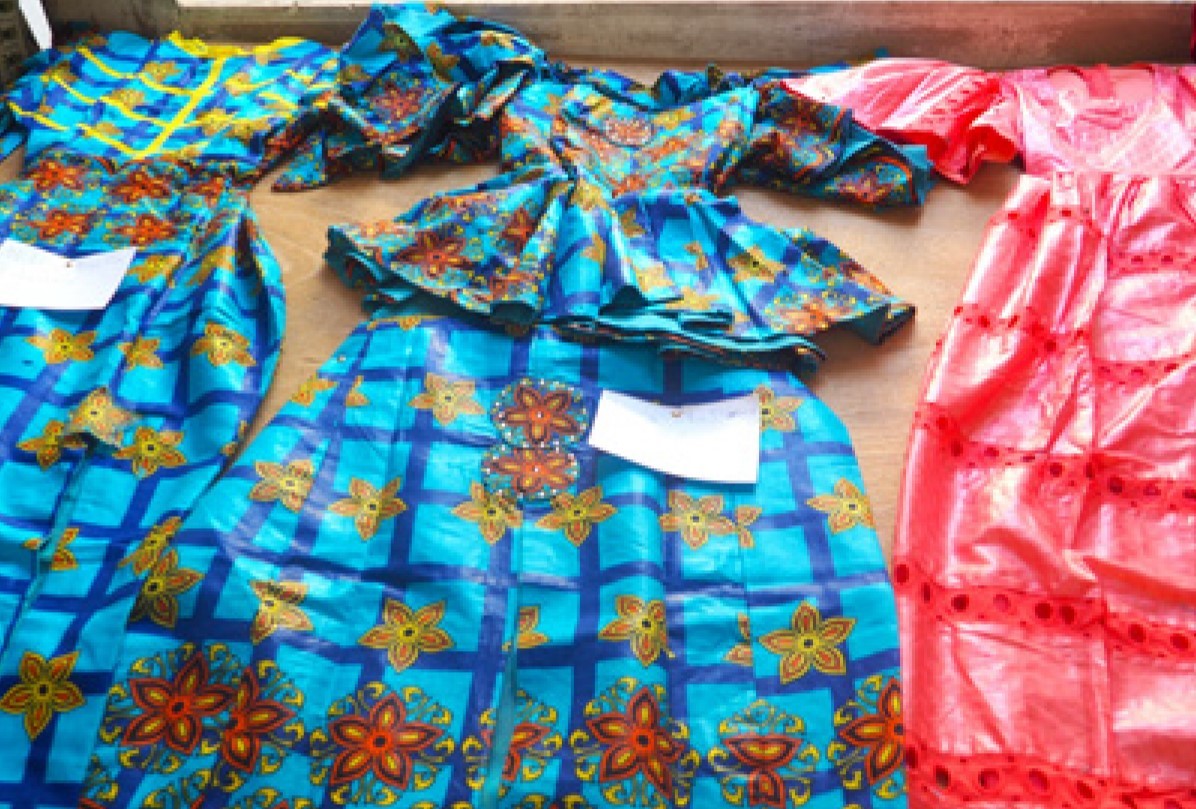 Traditional Senegalese clothes: final exam assignment at the sewing woshop
She's a rare example of a girl with no primary school diploma who was still being able to find her way into formal work, thanks to the efforts of three committed entrepreneurs from the neighbourhood.
From internship to vocational education and from certifying informal work to opening up a series of funds for small-scale entrepreneurs— improving youth employability involves a multiplicity of initiatives, each with their own small target group.
The World Bank has expressed some criticism in this regard. In 2014, an agency was set up for youth employability, which was to ensure greater unity and cohesion in the fragmented policy that was also spread across all kinds of institutions and Ministries.
The founding of the ANPEJ (Agence Nationale pour la Promotion de l'Emploi des Jeunes) is a great first step, but cohesion remains a challenge, in the opinion of the World Bank, as expressed in an evaluation report published in late 2018. What's more, the funds are insufficient.
The World Bank underlines the problem that the existing policy primarily favours the upper class. Technical vocational education, which has been the trend in recent years, significantly improves the chances of young people finding work, but just 7.7 percent of young people who complete primary education have access to it.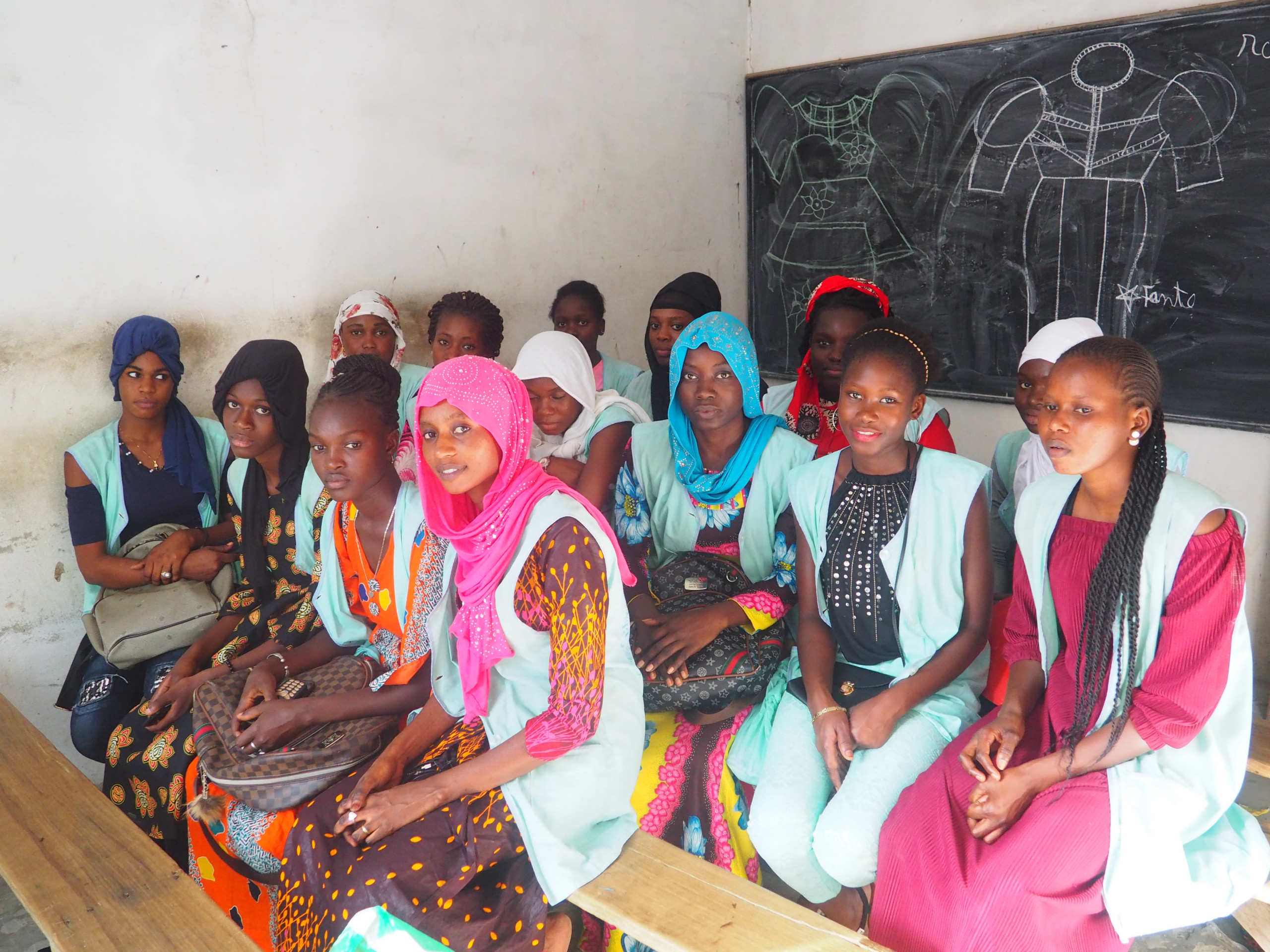 The system serves well-educated young men from the city, and the focus is mainly on policy for the formal sector. Isn't this strange, when you consider that less than ten percent work in the formal sector? Most people learn skills in the family context and while working in the informal sector. The World Bank believes that this offers opportunities, if you can certify these skills, which is rarely the case at the moment.
"There is a lack of synergy between the programmes," admit trade union members of the UDTS. However, there is no place for real pessimism as far as they, the ministry or employers are concerned. They say that what matters is that things are starting to change in Senegal.
"This is the best thing we can do for young people," says Mbaye Sarr of the employer's association. In the port of Rufisque the day is almost drawing to a close, the unloaded dugouts are being dragged up the beach. They are the same brightly-coloured boats in which several thousand young Senegalese dared make the journey to Europe—and in which hundreds perished.
Senegal is one of the main countries of origin for migrants setting out from Sub-Saharan Africa to the West. The money they send home plays an increasingly important role in the Senegalese economy. In 1990, it came to 142 million dollars in money transfers, in 2017 this amount exploded to over two billion dollars—around a tenth of GDP.
Whether the creation of more jobs in Senegal will change all that is, according to most Senegalese, highly questionable; more likely the opposite. "Migration is not for the poor," they say, anyone who wants to make the journey with the help of smugglers, has to pay a high price.
For Abdul Khadre one thing is certain: his future is here. Between the sea and the port of Rufisque.
Blog - Young African trade unionists together on youth employability