Today the Free Trade Agreement between the European Union and Vietnam is being discussed in the European Parliament. The International Trade Committee of the European Parliament will speak about the progress Vietnam has made this year on labour rights as well as the challenges that still remain. The ratification of fundamental ILO Convention 98 (collective bargaining) is a very positive development following the recently adopted new Labour Code. Furthermore, Vietnam expressed its commitment to ratify two remaining fundamental Conventions: abolition of forced labour (105) and freedom of association (87) in 2023.
However, the European Parliament is debating in what way Vietnam will ratify those two fundamental ILO Conventions as to make sure workers' rights are protected within the framework of the new Labour Code as well as the Free Trade Agreement between the EU and Vietnam.
Closer to international standards
This new version of the Labour Code, following the 2012 one, creates an improved legal framework for working conditions and brings Vietnam's legislation closer to international standards.
In the framework of the Strategic Partnership for Garment Supply Chain Transformation, Fair Wear and CNV Internationaal have been actively advocating for improvements in the area of wages, social dialogue, collective bargaining, freedom of association and gender equality.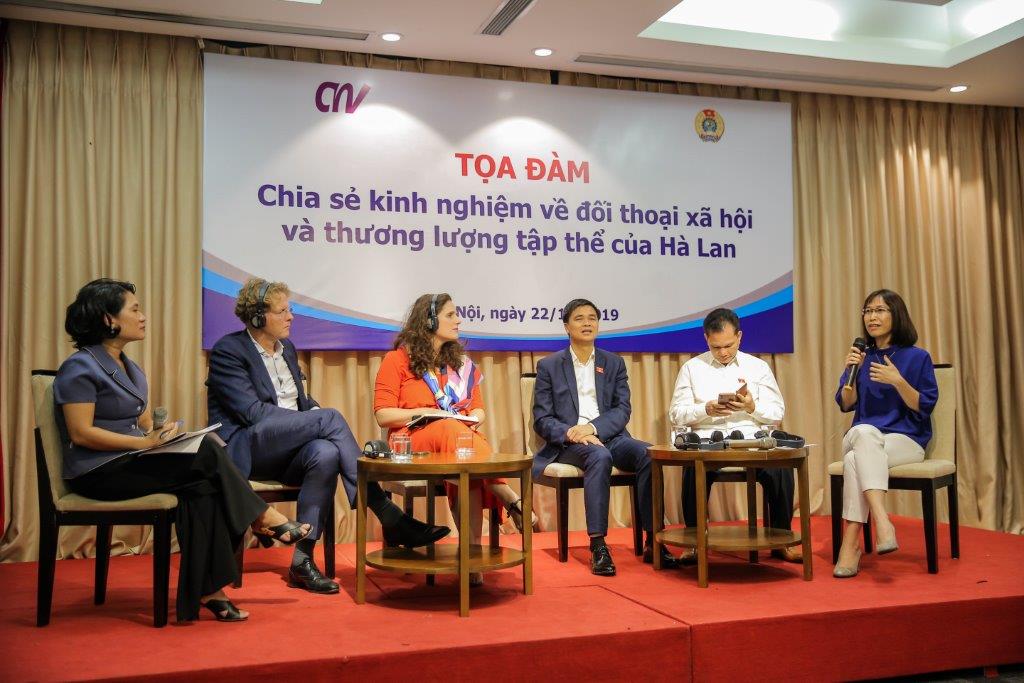 Last November 20th, the Vietnam National Assembly (NA) passed it's amended Labour Code. "The new Labour Code contains important revisions allowing workers to establish independent unions at factory level, and provides protection for trade unionists. These are positive developments towards more representative and strong trade unions, which are key building blocks for more effective collective bargaining and social dialogue in Vietnam. This will contribute greatly to the development of Vietnamese economy and society. However specific steps and mechanisms need to be established to make sure that workers can exercise these rights in practice and that the country will ratify the ILO Convention 87 by 2023 as committed" comments Arend van Wijngaarden, CNV Internationaal President.
"Trade Agreements can be important instruments to enhance labour conditions in production countries. At Fair Wear, we and our member brands will work hard to support implementation of the new legislative framework in Vietnamese garment factories", says Alexander Kohnstamm, Executive Director of Fair Wear.
In February 2020, the European Parliament will vote on the EU-Vietnam Free Trade Agreement. As soon as the European Parliament has given its consent, the European Council is set to give its final go-ahead in 2020 which allows the agreement to enter into force.
Key changes of the new Vietnamese Labour Code
Publication date 03 12 2019